The Actors Theater of Indiana (ATI) has entered into a new partnership with the Carmel Clay Public Library (CCPL) Foundation. With similar mission statements—to engage, to inspire lifelong discovery and learning, to provide and entertain enriching social and cultural experiences—the introduction of the ATI LabSeries into the Carmel Clay Public Library is the perfect marriage.
Although Elizabeth Hamilton, director of the Carmel Clay Public Library Foundation, and Don Farrell, ATI co-founder and artistic director, have been friends for years, it was ATI board member Jill Zaniker who spurred the idea of ​​a partnership between the two. In discussing how the ATI Theater Lab program might expand, Zaniker reflected on how well the LabSeries expansion might fit into the programs of the newly expanded library.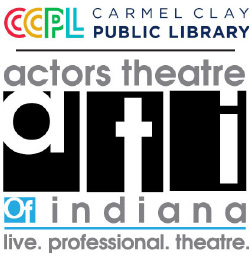 ATI and the Library Foundation are both excited about this partnership.
"The Carmel Clay Public Library Foundation is delighted to partner with the ATI Lab Series," said Hamilton. "The Library Foundation values ​​partnerships with the community and offers our customers the opportunity to experience unique programming opportunities. We hope community members will join our partnership with ATI to experience their Lab Series with us."
The Carmel Clay Public Library reopened on October 1, 2022 after a major overhaul. The new library goes beyond books and includes a café, an expanded youth area and a high-tech digital media lab. Best of all for ATI's LabSeries is that there are meeting rooms upstairs where rehearsals can take place with the actual reading and presentation of the play/musical culminating in a large communal meeting room on the first floor which the CCPL's website says accommodates to 296 people.
Three times per season, ATI brings its LabSeries to fans and the public. Because of ATI's commitment to promoting new plays and playwrights, the ATI Theater Lab program was created. Plays selected for the laboratory series are guided, discussed and developed through rehearsals with a professional cast, director (and music director in the case of new musicals). Each play or musical is given a public reading followed immediately by a moderated discussion with the cast and creatives.
"This gives audiences and the community a chance to help shape the work and development of a new play or musical with their feedback," Farrell said. "The ATI/CCPL audience in attendance can say, 'I was there when it all began!'"
There are two remaining games presented this season as part of ATI's LabSeries. First is Belinda: April Fool's jokeon Saturday March 25th. The musical is by AA Milne with adaptation and lyrics by Alisa Hauser and music by David Mallamud.
Here is the summary:
Before AA Milne gave us Winnie the Pooh he wrote this delightfully comedic and romantic play which premiered in the West End in 1918. belinda was ahead of its time, exploring the battle of the sexes against the backdrop of the carefree English countryside, where love and romance are renewed each spring. Fast forward to 2022, where Emmy-nominated Alisa Hauser (book adaptation and lyrics) and David Mallamud (composer) are at it again belinda come to life in this new musical comedy adaptation. In today's tense climate, couldn't we all use a little hilarity and folly?
Tickets for this 2 p.m. matinee are free. Under this link you can reserve your ticket and get more information about Hauser and Mallamud.
rosemary & time will be the finale of the ATI LabSeries 2023 for this season. This show, scheduled for Saturday May 20th, is also a 2pm matinee. Free tickets can be purchased at this link.
rosemary & time, by Emma S. Rund, is the story of a woman struggling with early-stage Alzheimer's. When her daughters return home for Thanksgiving, she must face the fact that she is losing touch with reality. The audience experiences Act 1 from Rosemary's perspective and joins in as she forgets recipes, names and faces. Rosemary will eventually have to ask herself, is she made up of her memories, or is she still herself when all her memories are gone? When the time comes, will Rosemary be able to let go?
* * *
ATI is the resident professional theater company of The Studio Theater at the Center for the Performing Arts in Carmel. ATI, an award-winning Equity Professional Theater company, is now in its 18th season of high-performing theatrical productions, world premieres and innovative collaborative works.
Visit ATIstage.org to find out about upcoming shows and other programming. To learn more about the Carmel Clay Library Foundation and all of its programs, visit CarmelClayLibrary.org/foundation.