With the No. 1 North Carolina team coming to town next week, Indiana played another tune-up game Wednesday night but did so without a preseason All-American Trayce Jackson Davis and two other players.
In the late stages of IU's 86-56 win over Miami Ohio on Sunday, Jackson-Davis had ice on his back and was examined by coach Tim Garl and team doctor Larry Rink.
On Wednesday night at Simon Skjodt Assembly Hall, Jackson-Davis and reserve guards Trey Galloway and Anthony Leal were in suits and not playing as the Hoosiers beat Little Rock 87-68 to go 5-0.
Indiana hosts No. 1 North Carolina in the Big Ten-ACC Challenge tent game on November 30 at 9:15 p.m.
"Man, I'm not worried about North Carolina," said IU coach Mike Woodson. "On Friday, Jackson State comes in here. We will continue to rate him.
"He's kind of a little bit physically broken. Nothing special. We rested him tonight and hopefully we'll get him ready for Jackson State. I mean, that's next on our plan."
Jackson-Davis, a 6-foot-9 senior, leads Indiana in goals – his 20.8 points per game is nearly double anyone else on the IU team at this early point in the season – rebounds (8, 8) and field goal percentage (76 percent). while playing 26 minutes per game.
Sixth-year IU senior Race Thompson was asked: Obviously you have Jackson State next, but everyone is talking about IU vs. No. 1 Carolina a week from today. How confident are you that you will all be perfectly healthy, really ready for it?
"Very confident," Thompson said. "We know we have a strong team and I think if Trayce had to go today he could have gone. I think it was more of a precaution for him.
"I mean you've seen what we can achieve with and without him, that's why I think this team is so special.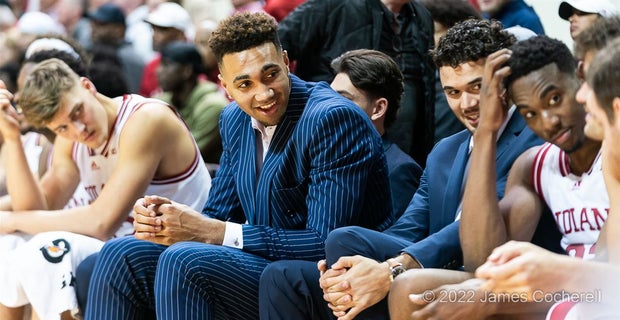 Ahead of the game, Indiana announced, "Indiana senior forward Trayce Jackson-Davis (caution), junior guard Trey Galloway (caution/knee) and junior guard Anthony Leal (ankle) will be inactive against Little Rock tonight."
Galloway, a 6-foot-4 junior who has started 10 games in his IU career, is averaging 4.0 points, 2.7 rebounds and 2.0 assists in 18.3 minutes per game from the Bank. Leal, a 6-foot-5 junior guard, is playing 2.3 points per game.
The high-scoring Hoosiers, who have averaged 88.8 points per game so far this season, host Jackson State on Friday at 12:30 p.m. (BTN) and the top-ranked Tar Heels on ESPN on Nov. 30.
The three players in the suits weren't the only IU players to have some physical things happen to them.
Thompson was clocked in the head under the basket resulting in a cut, the cut was patched and the second half played with a headband that seemed to have a little blood on it after the game.
Thompson looked good after the game and even joked around. When asked how he feels about being the first IU player to play with a headband in probably 15 years, Thompson smiled and said, "I feel special."
About halfway through the first half, 6-foot-9 freshman Malik Reneau, starting in place of Jackson-Davis, fell badly, had ice on his tailbone for a while, but returned and ended the game.
Thompson had a team-high 20 points and eight rebounds, shooting 7-for-8 from the floor and 6-for-6 from the line.
Freshman guard Jalen Hood-Schifino – who started alongside Reneau as they led Montverde Academy to another national title as seniors – had 13 points, seven rebounds, three assists and five turnovers.
Jordan Geronimo had 11 points and five blocked shots in 15 minutes off the bench, and Reneau added 10 points and six rebounds. Geronimo has 10 blocked shots in his last two games.
RECRUIT INDIANA LITTLE ROCK GAME NOTES