Mike Woodson has always been Indiana's biggest creditor. Why? Because if his 40 years of basketball coaching has taught him, the long game almost always yields better results than knee-jerk reactions in the present.
When Indiana was on a three-game losing streak less than two weeks ago and its season teetered on the brink of freefall, it would have been easy for Woodson to just let the players figure it out for themselves. Maybe tweak a few schematics here and there, but otherwise hope Indiana can pull themselves up as a team from the low point of the season.
But Woodson and hands-off coaching are two variables that don't go together. So, the day before Indiana's victory over then—No. 18 Wisconsin, Woodson held a three-hour training session. Because of this, Woodson has reiterated in recent weeks that he wasn't ready to hit the panic button, even if some in the media and the IU fanbase had hit that button at the moment adversity swept the Hoosiers by surprise.
And now, after three straight wins against NCAA tournament-caliber teams in Wisconsin, Illinois and Michigan State, Woodson's conviction is being vindicated. All he cares about is praise or recognition – he would rather get the three conference wins and move on to the next opponent.
"TThe only way to get out of a turmoil, I've always believed that as a coach, is that you have to work your way out of it," Woodson said.So practicing became even more difficult and I became more demanding. i wanted more We needed more. And we responded in the Wisconsin game and it was a nice transfer to Illinois and now today. That's pretty much where we are."
Although Woodson's summary of the past week has brought the Hoosiers to their current form — 13-6 overall and 4-4 in conference play — is pretty nonchalant, make no mistake: Indiana has absolutely dominated the last three games and is arguably playing its best basketball of the season.
The proof also lies on the verge of victory. The Hoosiers' 63-45 win against Wisconsin was never in doubt. In Illinois, the Hoosiers took a 19-point lead in the first half and drove to an 80-65 win. And on Sunday afternoon against Michigan State, the Hoosiers answered every hit from the Spartans and used a great second half to walk away with a convincing 82-69 triumph.
For those counting, Indiana has won its last three games by double digits, 46 points total and an average margin of 15.3 points.
Surprised? Maybe for some, but not for the junior guard Trey Gallowaywho helped spearhead IU's recent successful spread.
"We all sort of came together, nobody panicked," Galloway said. "Because like I said, there was no need to panic because it's a long Big Ten season and there are still a lot of games left. We cannot get too high or too low. We just have to stay balanced -Kel all the time and know we have a lot more games to play.
"We just have to take it one game at a time and stay focused on the task at hand."
It's often a cliché used to excuse or explain away a team's poor performance. But for Indiana, especially during his three-game losing streak, that was exactly what had to happen.
After squandering a 19-point lead in Iowa, then allowing Northwestern to steal a win in Bloomington, followed by a 19-point drawdown by Penn State, the Hoosiers were in dire need of a reset. And starting with the basics, particularly on the defensive end where IU got shredded, was a logical place to start.
"For us, it's about staying locked in, just focusing on each opponent individually and then just sticking with what works," said Phomore Guard Tamar Bates said." We can tell from a game and a movie what wins us those games, and it all starts on defense."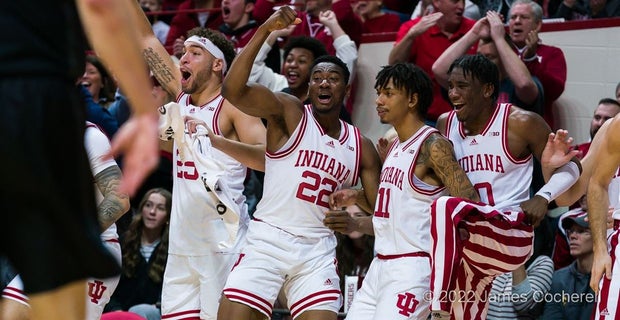 While a rediscovered defensive tenacity could be the impetus for Indiana's winning streak, the Hoosiers are certainly not in that position without the all-American caliber of the senior forward either Trayce Jackson Davis.
Earlier this season, all eyes were on Jackson-Davis as he was eligible for almost every Big Ten and national honors. But what he's been doing lately to keep Indiana from rock bottom can't be overstated. In his last three games, the 6-foot-9 star has averaged 28 points, 12 rebounds, 4.3 assists and 4.3 blocks.
When Indiana needed a rebuff, Jackson-Davis was the guy. When Indiana needed a stop or a rebound, Jackson-Davis was the anchor on defense. And right now, at least, there may be nothing a player or team can do to deter Jackson-Davis.
"I feel like there isn't a person in the country who can honestly protect me," Jackson-Davis said. "That's how it is when we shoot and everything clicks. We are a great team and hard to beat."
Woodson added: "We've had our ups and downs in terms of bolstering the lads but those last three games, man, everyone who played played a big, big part in our win."
But winning in the Big Ten isn't easy; Indiana learned this the hard way. Even the smallest negligent error is enough for a conference opponent to turn a tight game into a brilliant victory — at home or away.
What the Hoosiers have shown in their last three games, however, is a team that seems to understand who and what's ahead of them on any given night. And while the Big Ten season is more of a marathon than a sprint, Indiana's recent resilience is proving to be a recipe for success.
"It says a lot. They're not quitters," Woodson said. "I've been part of teams that just shut it down and said I was done. But these guys are playing for something.
"The Big Ten championship and title are still out there. Someone has to win them."