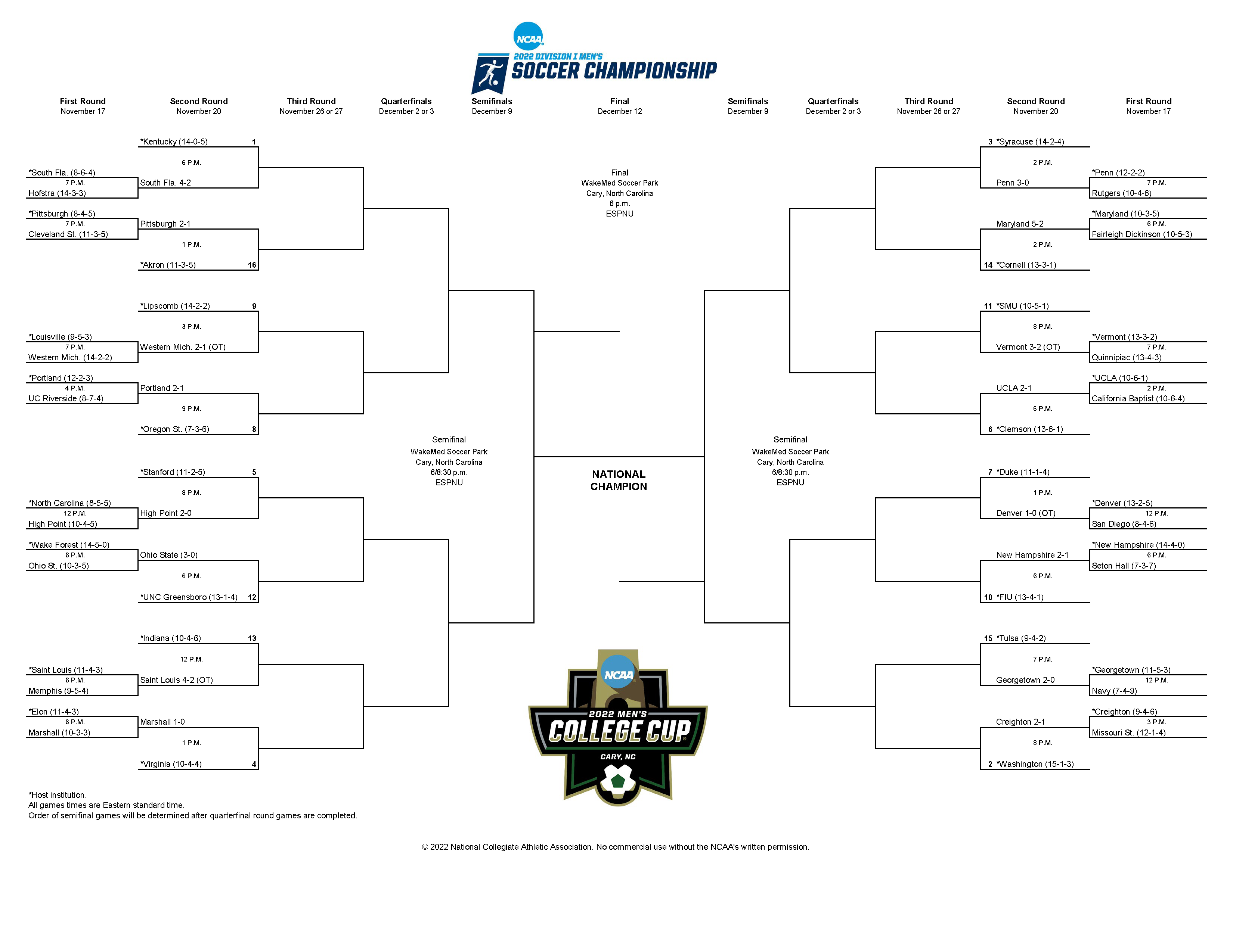 1973, Indiana University men's soccer team played his first NCAA season. The next year, the Hoosiers made their first NCAA tournament appearance. And now in its 50th year, IU is still preparing strongly for its 47th NCAA tournament when they host St. Louis on Sunday at 12:00 p.m. ET.
No. 13 seeded Indiana (10-4-6) was awarded a first-round bye. The Hoosiers most recently defeated Penn State (1-0) and Maryland (2-1) en route to the Big Ten championship game. But in the championship, Rutgers took charge from the first whistle, allowing the Hoosiers just one goal and earning a 3-1 score. It was the first Big Ten championship for the Scarlet Knights since joining the conference in 2014.
Ryan Wittenbrink leads the Hoosiers' attack with eight goals and eight assists this season. Tommy Mihalec is next in line with six goals and two assists. Fifteen different players have found the net this season, including nine who have found the net multiple times. So expect the Hoosiers to be sneaky when attacking. And watch out for Wittenbrink, who is dangerous from set pieces and in the penalty area.
St. Louis (12-4-3) won the Atlantic 10 Championship 3-2 on penalties after drawing 0-0 with Loyola Chicago and earned an automatic bid in their 50th tournament appearance. The Billikens lead the NCAA with 10 national championships. St. Louis has not lost a game since a 3-2 loss at Rhode Island on Oct. 5. The Billikens finished the season on a 6-0-2 run, beating their opponents 18-4 in that span.
On Thursday night, St. Louis and Memphis battled it out to a 2-2 draw. But in 20 minutes of overtime, the Billikens scored twice more to win 4-2 and advance to the second round of the tournament. Memphis struck first with a goal in the 23rd minute. Seth Anderson equalized just before half-time. In the 76th minute, Saint Louis took a 2-1 lead when Alberto Suarez converted a penalty. But the lead lasted just over three minutes. Memphis sent the game to OT. But goals in the 95th and 108th minutes sealed victory for Saint Louis.
John Klein leads the offense with seven goals and five assists, closely followed by CJ Coppola (six goals, one assist) and Alberto Suarez (six goals). Thirteen Billikens have combined for 40 goals this season. Expect plenty of players to appear on offense. Teams to score three goals against St. Louis appear to seal the deal. At least teams that scored three goals led to three of the four losses.
The history between these two clubs is storied to say the least. To reiterate, SLU is making their 50th tournament appearance and has 10 championships. IU makes his 47th and has eight. But St. Louis was well established by the time IU became an NCAA team. The Billikens won their 10th championship in 1973. Since then they haven't won any more. IU won its first championship in 1982 and its eighth in 2012. The Hoosiers lead the streak with the Billikens 23-9-4, with six straight wins dating back to 2008.
With the postseason, all records are thrown out the window. Players are asked to wipe the board clean and play one game at a time. Because one loss and the season is over.
rule changes
There is no golden goal overtime in NCAA postseason games. If games are tied after 90 minutes, two full overtimes will be played. If the game is still tied after 20 minutes, there will be a penalty shootout. The NCAA eliminated overtime and PKs for regular-season games, which is why there are so many ties to bracket teams.
Teams to watch out for
Ohio State (11-3-5). The Buckeyes surprised Wake Forest (24-6-0) with a 3-0 win Thursday night. Wake Forest was one of only two zero-tie teams in the tournament class.
The other team to watch out for is High Point University (11-4-5). The Panthers defeated UNC 2-0 in round one to win their first NCAA tournament game. You will next be in the No. 5 play Stanford.
Follow Kathryn on Twitter: @Katknapp99.
Support Soc takes on Patreon for access to exclusive content and supporter benefits. click here become a sponsor today.
Related