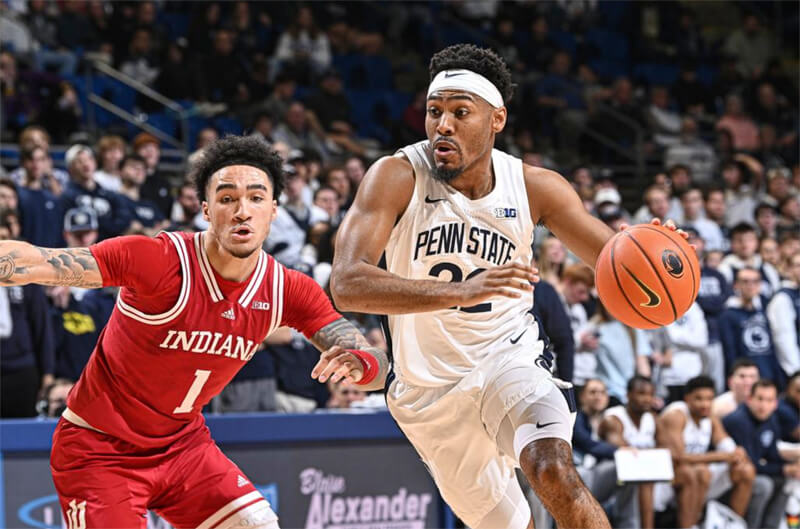 Trey Galloway leaned forward, put his hands on his head and appeared in disbelief after a Kanye Clary 3-pointer at 11:30 gave the Nittany Lions an 11-point lead over the Hoosiers. From then on there was no turning back.
In Indiana's 85-66 loss to Penn State at Happy Valley (IU's largest loss to Penn State in school history), the Nittany Lions made 18 shots from beyond the arc on 31 attempts. Looking blindly at these stats, it might seem like Penn State is about to turn off the lights. And while that's partially true, the Indiana full-back failed to make adjustments, over-helped on countless occasions, and never communicated against a Penn State team that ranks in the top 10 in the country in 3-point shooting.
In a disturbing performance on many levels for Indiana, the Hoosiers looked like they hadn't even stepped off the plane. It was the first time Indiana had conceded 80 points in three consecutive Big Ten games since the 1997-98 season.
The step Indiana has taken back on the defensive end from last season is almost shocking. According to Kenpom, the Hoosiers statistically had the best defense in the Big Ten last season. This year, the Hoosiers rank 13th, ahead of only Minnesota. The crazy? Well, this year's squad (on paper and injury free) is far better than last year's.
Anyone who watched the Hoosiers this year and last would say that IU can be a terrific defensive team. The keyword there is ability. In the first two months of this season, and especially in Big Ten play, the defensive effort was abysmal.
"I thought we did things a couple of times that we didn't even talk about in our scout, our walkthrough, our practice… tonight we didn't have a shot with all the 3s we gave up. We never physically touched anyone, we just didn't do it," said Mike Woodson after the game.
Indiana lacked consistency, communication and attention to detail. Indiana players kept turning heads to find their man wide open behind them or even on the opposite end of the floor. The better team, Penn State, took advantage.
So whether the game plan was discussed in the walkthrough or discussed in team meetings doesn't matter. When it mattered, it was not carried out. That's the product fans and alumni are seeing on the pitch this season. A team that looks defensively lost and ill-prepared.
Stellar defense requires cohesion, energy, and trust. In this context, trust is defined as knowing that your teammate has the back of rotations and is helping the defense, and that the coach's game plan will lead you to success. And a confidence that your teammates will be communicating, calling up screens, movements and the like. Right now, Indiana doesn't have that confidence.
Hoosier guards Tamar Bates and Jalen Hood-Schifino struggled to press the ball and stay with faster players. Miller Kopp doesn't have the speed to dash through screens and close shooters. Galloway plays for steals and is frequently thrown out of position.
"We have to be mentally sharp and play hard. I just think if they get pushed around a little bit, we kind of shrink," Mike Woodson said after the game. "If there was a rotation, we didn't do the next rotation. We looked lost and that's on me again."
The little mistakes like turning around with sloppy passes, missing free throws (IU shot 56 percent on Wednesday) and defensive struggles suggest a team lacks attention to detail and focus.
The lack of effort was the most disappointing thing about the three-game sled. There just isn't much of it. Even with Xavier Johnson and Race Thompson injured, Indiana should still be competitive. That was not the case at the Bryce Jordan Center.
"We can definitely play harder. Coaches preach it," Galloway said after the game. "I think our identity is playing hard and I think we're not doing that right now. And we all are, we could all give a little bit more."
For a team that was in the top 10 a month and a half ago, the fall Indiana has taken is puzzling. And right now, there's nothing on the outside that could get the Hoosiers back on track. It has to come from effort, coaching, will and trust. So far, the message of tenacity and focus is not getting through.
(Photo Credit: Penn State Athletics)
Filed at: