Trucking News and Briefings for Monday, January 16, 2023:
Indiana driver caught with 22 pounds of cocaine in sleeper car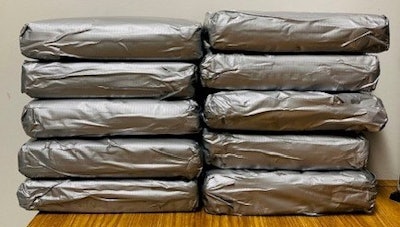 Indiana State Troopers arrested a truck driver Thursday, January 12, after finding 22 pounds of cocaine in his truck's bunk. The drugs were valued at $400,000, police said.
A statement from ISP said at about 3:50 p.m. a police officer stopped a tractor-trailer truck for a motor transporter inspection on I-70 near the 59-mile marker. The driver was identified as Jorge Bucio, 37, of Weatherford, Texas.
In the course of the inspection and the conversation with Bucio, criminal indications were found which raised the suspicion of illegal activities. The Plainfield Police Department dog was called to help. A positive dog alert to the smell of illegal drugs led to a search of the trailer truck.
During the search, the officer discovered about 22 pounds of cocaine in the bunk.
Bucio was taken into custody and taken to the Hendricks County Jail, where he is currently being held. He was charged with dealing in narcotics, a level 2 felony, and possession of narcotics, a level 3 felony.
Michigan's Royal Truck & Trailer becomes a full-service utility dealership
Utility Trailer Manufacturing Co. recently announced that Royal Truck & Utility Trailer, formerly Royal Truck & Trailer, is now the full-service utility dealership for the entire state of Michigan.
Royal Truck & Utility Trailer also completed the purchase of Hudsonville Trailer in Grand Rapids, Michigan. Hudsonville Trailer has been a full service utility dealership since 2010.
Royal Truck & Utility Trailer is led by Ken Bumgardner, President and CEO; Julie Bumgardner Igielske as CFO; and Kevin Igielske, vice president of sales.
Mark Gazan will continue his leadership role at the Grand Rapids location, which is now Royal's sixth location in Michigan. Royal Truck & Utility Trailer locations are strategically located throughout the state in Dearborn, Gaylord, Grand Rapids, Warren, Wixom and Hudsonville with corporate headquarters located in Northville, Michigan.
"After 11 successful years as a Great Dane dealer, we have decided to move forward with a new manufacturer," said Ken Bumgardner. "We are delighted to be working with Utility Trailer Manufacturing Company, another family business committed to the same core values ​​as Royal: putting our customers and employees at the heart of everything we do."
Founded in 1970 by Roy Bumgardner, Royal Truck & Utility Trailer is now in the third generation of the family. .
New Run on Less campaign focuses on expanding electric trucks
The North American Council for Freight Efficiency (NACFE) and RMI have announced the launch of Run on Less – Electric Depot (RoL-E DEPOT) this fall.
The run will focus on what it takes for fleets to transition from one or two electric trucks to 15 or even a full electric switch in a single location.
"Moving from one or two trucks to 15 or more increases the complexity of the required infrastructure and loading requirements," said Mike Roeth, Executive Director of NACFE. "Some fleets are already doing this successfully, and we want to examine them to see how they've overcome some of the challenges they've faced in scaling EV adoption."
NACFE is in the process of selecting the eight depots for the run and is accepting applications from fleets wishing to participate by February. Fleets can find an application for the run here.
Companies have already agreed to support the run, with PepsiCo committing to be an executive sponsor and Cummins and Shell committing as title sponsors.
Run on Less – Electric Depot will be an 18-month effort this year and next. Run on Less – Electric's popular Electric Truck Bootcamp returns for RoL-E DEPOT with 10 new sessions featuring approximately 50 experts from a variety of companies who will share their knowledge on scaling EV adoption. Registration for the free bootcamp will open in mid-March and is free for anyone who wishes to attend.
[Related: Battery-electric's trucking reality: Parking could 'get a whole lot worse']