Republican Rep. Jim Banks says "Indiana deserves a conservative senator" and emphasizes that he "was a leading conservative voice in the House of Representatives."
Banks, a former state senator and Afghanistan war veteran who is in his fourth term representing a northeastern Indiana district, officially launched his run for the 2024 Senate on Tuesday, replacing GOP Sen. Mike Braun, who stood up last month announced that he is running for governor of the state of Hoosier rather than seeking re-election.
Banks said in an interview with Fox News before his announcement that he intended to "go into the Senate and be the kind of conservative fighter that Hoosiers want their senator to be."
"I am 100 percent pro-life, pro-family, pro-military, pro-veterans, and am focused on the issues that matter most to voters today, which are holding the Biden administration to account and restoring America and for fighting our conservative values, putting America first, and that's what I want to do in the Senate," he said.
BANKS TELLS FOX NEWS HE IS "STRONGLY CONSIDERING" SENATE PERFORMANCE.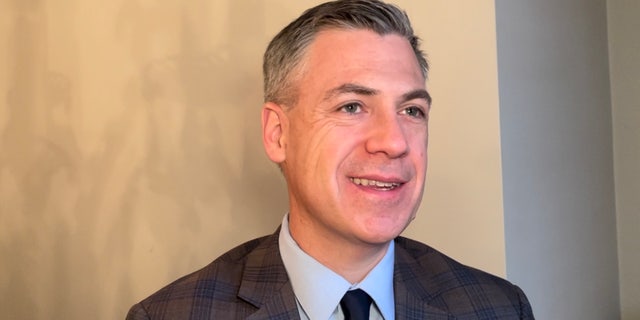 Banks launched his Senate campaign with a statement and video, announcing the move in a live national interview on Fox News' Fox and Friends. He says he will be traveling across the state in the coming days to meet with friends and supporters and to speak to local media.
He presents two high-profile endorsements as he jumps into the Senate race: Sen. Tom Cotton of Arkansas, a rising star in the GOP, and Rep. Larry Bucshon, who represents Indiana's 8th congressional district in the southwest corner of the state.
DEMOCRATS WILL LIKELY FACE A DIFFICULT SENATE CARD IN THE 2024 ELECTION
Banks, who for the past two years has chaired the Republican Study Committee, an influential group of conservative members of the House of Representatives, said: "I feel compelled to stand up and run for the Senate because we have a new, fresh Conservative leadership in the Senate of the United States need. That's what Indiana expects. That's what Indiana deserves — a conservative fighter in the Senate."
"The United States Senate is a place where I can do even more for the conservative values ​​that I and Indiana voters hold dear," he said.
Banks said that the growing national debt, the threat of China and Wokeism are "the three biggest problems facing our country today".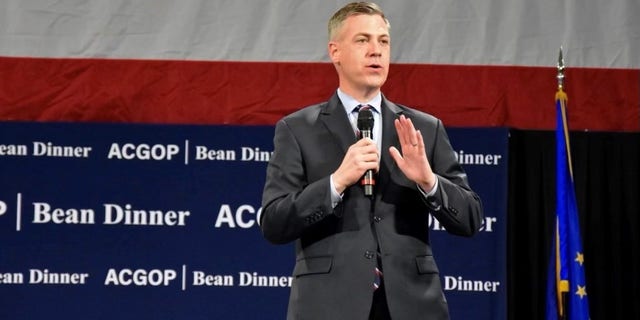 Arguing that China poses a threat "to our American way of life," Banks said he's been "a leading voice in the House of Representatives to blame China for stealing our jobs and giving us COVID, and the Senate." provides an even greater platform to do more to combat the Chinese threat and hold China accountable."
He called Wokeism "a cancer in America, and if we allow Wokeism to continue to engulf our institutions, our schools, our military, our government and corporations, it will be death." [this] Country. I've fought the fight in the House of Representatives, and the Senate is an even bigger platform to oppose critical race theory, anti-Americanism, and vigilance."
FIRST ON FOX: "GO BACK OR GET FIRED" – ARM OF SENATE GOP CAMPAIGN GOES ON MANCHIN TARGET
And he said that "the omnibus [bill] that was made up of the Senate was frankly a key factor in my decision to run for the Senate because it "was an indicator that we need fiscal conservatives in the Senate who resist big spending omnibus bills and don't." will join. "
The massive bipartisan spending bill that averted a government shutdown was backed by longtime Senate GOP leader Sen. Mitch McConnell.
When asked if he would support McConnell, Banks said, "I think we need new conservative voices and leaders in the Senate. That's why I'm running. There aren't enough of them, and the Omnibus Act is a case in point. There are many other examples where we have had Republican senators in the US Senate joining the Democrats in passing the radical Biden agenda. And I want to go there and fight back.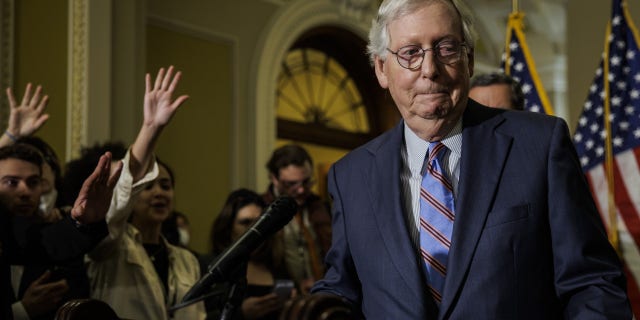 Indiana was once a battleground state for general elections, but it has turned solid red over the past decade and the race for open Senate seats could become crowded. While Banks is the first major GOP nominee to jump into the running, he will likely face competition for the Republican Senate nomination.
SIX DEMOCRATIC SENATORS WHO MAY RETIRE IN 2024 BEFORE WATCHING RE-ELECTION
Supporters of Republican Mitch Daniels say the former two-term governor — who was known as a fiscal conservative during his tenure as ruler of Indiana — is seriously considering a Senate bid. Last week, the Club for Growth, a well-known free market advocacy group that meddles in the GOP primary, ran an ad in which the "moderate Mitch" was "wrong" for the Senate. The small ad buy was a sign that Daniels could face opposition from the right if he makes a Senate bid.
Among others considering an offer is Republican Victoria Spartz, who represents a district in the central part of the state that includes parts of Indianapolis and its suburbs.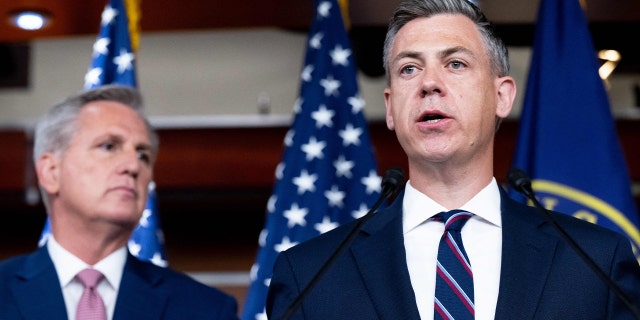 Banks — who narrowly lost in November to Rep. Tom Emmer of Minnesota, who has chaired the last two cycles of the National Republican Congressional Committee, in the race for the House majority whip, which is the No. 3 leadership position in the new Republican majority in the chamber — has long been an ally and strong supporter of former President Donald Trump.
The former president, who announced his third run for the White House in November, remains one of the most popular and influential politicians in the GOP.
CLICK HERE TO GET THE FOX NEWS APP
"I'm a huge fan of President Trump and what he's done for our country, what he's done for the Republican Party. He remains hugely popular in the state of Indiana and of course I would love to have President Trump's support because it is such a significant show of support from someone who has fought hard to put America first and who I fought with when he was president," Banks said.
The congressman said he was "leading the fight to secure our border and make America's foreign policy first, America's economic policy first, to put American workers first, and our immigration policy, trade policy." President Trump knows this and I would be very glad to have his support."