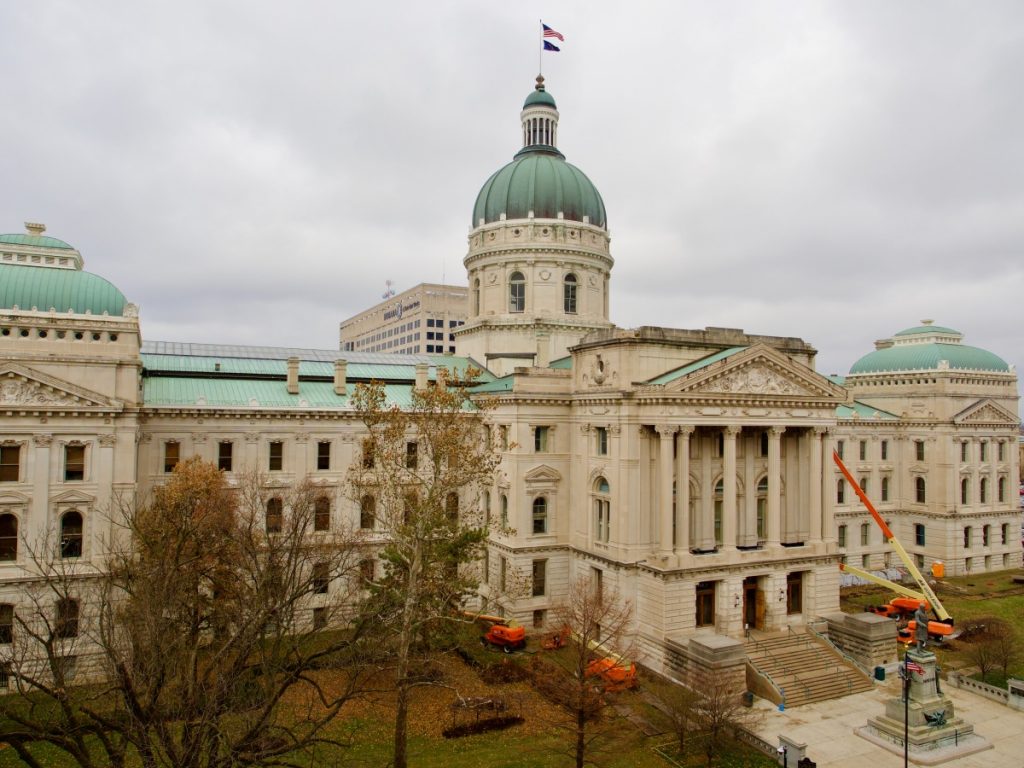 Indiana nonprofits would be allowed to keep the identities of their members and donors secret under a bill now before the Indiana General Assembly.
Senate Bill 303 would prohibit any government agency from requiring a nonprofit organization to provide information that would identify members, supporters, volunteers, or donors.
The Indiana Senate Judiciary Committee voted 9-0 Wednesday afternoon to submit the legislation for consideration.
Supporters of the legislation said people have the right to give money without their identities being revealed.
"Some people like to donate anonymously," the bill's author, Sen. Liz Brown, told R-Fort Wayne. "It gives them that protection."
Last year, about 10 people anonymously donated $1 million or more to Indiana organizations, including a $20 million gift to DePauw University and a $10 million gift to Ball State University, according to a review of the IBJ records.
The move comes as some states have demanded that groups release the names of members and donors, claiming large gifts are the equivalent of black money or could conceal fraud and should be made available to the public.
More than a decade ago, then-California Attorney General Kamala Harris announced a policy requiring all state nonprofits to disclose their donor lists to the government. Her office argued that disclosure was necessary to help her protect the public from fraud.
However, several nonprofits argued that the rule violated the First Amendment by preventing their donors from making contributions. In 2021, the Supreme Court overturned the California requirement by a vote of 6-3.
Since 2014, states have reviewed more than 200 bills that would force nonprofits to disclose donor identities, said Holly Davis, vice president of the Indiana Philanthropy Alliance, a network of foundations, corporations and social investors.
"It's definitely a movement that we're seeing pretty pervasive," Davis said. "In 2022 alone, 24 bills were introduced in 16 states nationwide. So there is absolutely a movement."
On the other hand, 18 states have passed privacy laws since 2018, she said.
Some philanthropic groups say Indiana needs a law to protect the privacy of members and donors. Indiana is home to more than 1,200 foundations that award more than $2 billion in grants each year, Davis said.
"There are countless reasons a person might want to keep their charitable giving private," said Danielle Coulter, who represents the Philanthropy Roundtable, a group that advises large donors to charities. "These include, but are not limited to, general privacy concerns, religious beliefs, sheer modesty, a desire to avoid unwanted solicitations from others, a desire to focus solely on the cause they are supporting and not just the fact that they are donating more or fear, or harassment, or retaliation."
The privacy provisions of the bill would not apply to fraud investigations or enforcement actions against certain nonprofit organizations. "This isn't an issue that was brought to us to protect bad actors," Brown said.
No one testified against the bill.
The committee also introduced an accompanying bill, SB 302, that would prohibit government agencies from forcing nonprofit groups to submit information that is more stringent than permitted by state or federal law.