At the start of this season, the Indiana basketball team seemed to be on the right track. The Hoosiers won an away game at Xavier, a team now ranked 18th in the country, and beat North Carolina at home by 12 points.
Now the mood is going in a different direction. Indiana has lost a 21-point lead in the last two games in the 91-89 loss in Iowa and fell 17 points behind in Sunday's 84-83 home loss to Northwestern.
No. 15 Indiana (10-5) is 1-3 in the Big Ten and sits ahead of last in conference standings, level on points with Maryland and Illinois, ahead of just 0-4 Minnesota.
Northwestern sits 3-1 in first place in the Big Ten and 12-3 overall.
"You have to keep practicing and we have to keep working," said IU trainer Mike Woodson. "Nobody's going to feel sorry for the Indiana Hoosiers, and yes, we have two important guys who aren't on the bench in uniform, but we have other guys in uniform who need to get up and play.
"I thought to come down early tonight, we struggled early. Now I might have to tinker with the lineup again. I thought me (Jordan) starting Geronimo, I thought he would take us there as a junior and the fact that he made it.
"By no means do I blame Geronimo but we had such a slow start, 17 except for such a good team – they are playing well. I don't take anything away from them. They played a damn good game.
"We came down early and it was a dogfight trying to come back and we never got to come back."
Indiana star Trayce Jackson-Davis, who had career-high 24 rebounds, 18 points, eight assists and four blocked shots in every 40 minutes, spoke about where IU is broadly at right now.
"Obviously we just have to regroup. We can't count on the boys going down, but at the same time, it's the game of basketball and we have to let the boys come up," Jackson-Davis said.
"We're really strong against Iowa and then we lay an egg and come out flat here and you can't have that when you're playing Big Ten competition.
"We have to come out strong and the lads have to be ready to play and that's the easiest way to put it. I need to get her to do that better."
For a Sunday midday game in early January, Simon Skjodt's meeting hall was already quite full before the start and the balconies were quite busy until the first TV break. Northwestern sucked the crowd's energy out pretty early.
In their last four games against Power 5 teams, Indiana has conceded 89, 84, 91, and 84 points.
Northwestern was averaging 2.1 points per ball possession in the first 8+ minutes, an insane offensive efficiency rate. The national leader in offensive efficiency is Ohio State with 1.19 points per possession.
"I just think sometimes we get almost confused when we don't play our type of defense," Jackson-Davis says. "As with the straight-line drives, we've had nail help and sometimes the nail man isn't there and we just don't go to our coverage.
"The manager had a great game plan and I don't think we followed it at all, to be honest. We didn't change when we had to change and those are mental mistakes.
"If you don't listen to your coaches, it's going to really hurt you because obviously they got everything they wanted."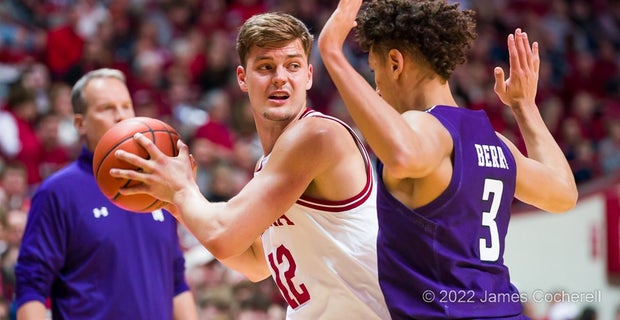 Northwestern used motion and screens to free up space for its guards to navigate the sides of the lanes at will for much of the game.

Guards Boo Buie (26 points), Chase Audige (19) and Ty Berry (13) gave the Hoosiers, especially Buie, trouble all game long.
IU starters Jordan Geronimo (zero), Miller Kopp (five) and Tamar Bates (nine) combined for just 14 points. That put enormous pressure on Trayce Jackson-Davis and Jalen Hood-Schifino, who did their part and more.
Hood-Schifino had 33 points, the most by an Indiana freshman since Eric Gordon had 33 in 2007-08. Hood-Schifino was 5-for-7 from 3-point range.
Hood-Schifino is also the first IU freshman to score 20 or more points in his first two Big Ten games since Gordon. Hood-Schifino had six turnovers against Northwestern, five of them in the first 10 minutes.
TJD's 24 rebounds were the most by a Hoosier since Steve Downing had 25 against Kentucky on December 11, 1971. It was also the most rebounds by a Big Ten player since Aaron Johnson had 24 for Penn State on Nov. 15, 2004.
Point losses were a big problem for the Hoosiers against Northwestern on Sunday. Points from turnover for the game: Northwestern 25, Indiana six.
Aside from the two straight losses, starting point guard Xavier Johnson (foot) will be out for a while and starting forward Race Thompson (knee) will most likely be out until February.
Indiana was ranked #1 in the Big Ten for defensive efficiency last year according to KenPom. So far this year, the Hoosiers are ranked ninth in the Big Ten. IU allows 1.05 points per possession in conference games, which is below the Division I average of 1.02.
Woodson said the following when asked about IU's defense problems:
"Xavier Johnson and Race Thompson are on the sidelines and X has been out for a while now anchoring to guard the ball that's coming down and doing a lot of pretty good things for us defensively," Woodson said.
"That's why we're struggling defensively. We've got two starters sitting on the sidelines and I'm reaching out and trying to figure out who's going to replace that.