Each year, Grace College is holding a business plan competition where students present ideas that solve problems and impact their communities. Students sketch a business with products, growth plans, and cost analysis. In the end, the judges decide who will receive the funding to start their business. To develop ideas, the students draw on their different backgrounds and passions.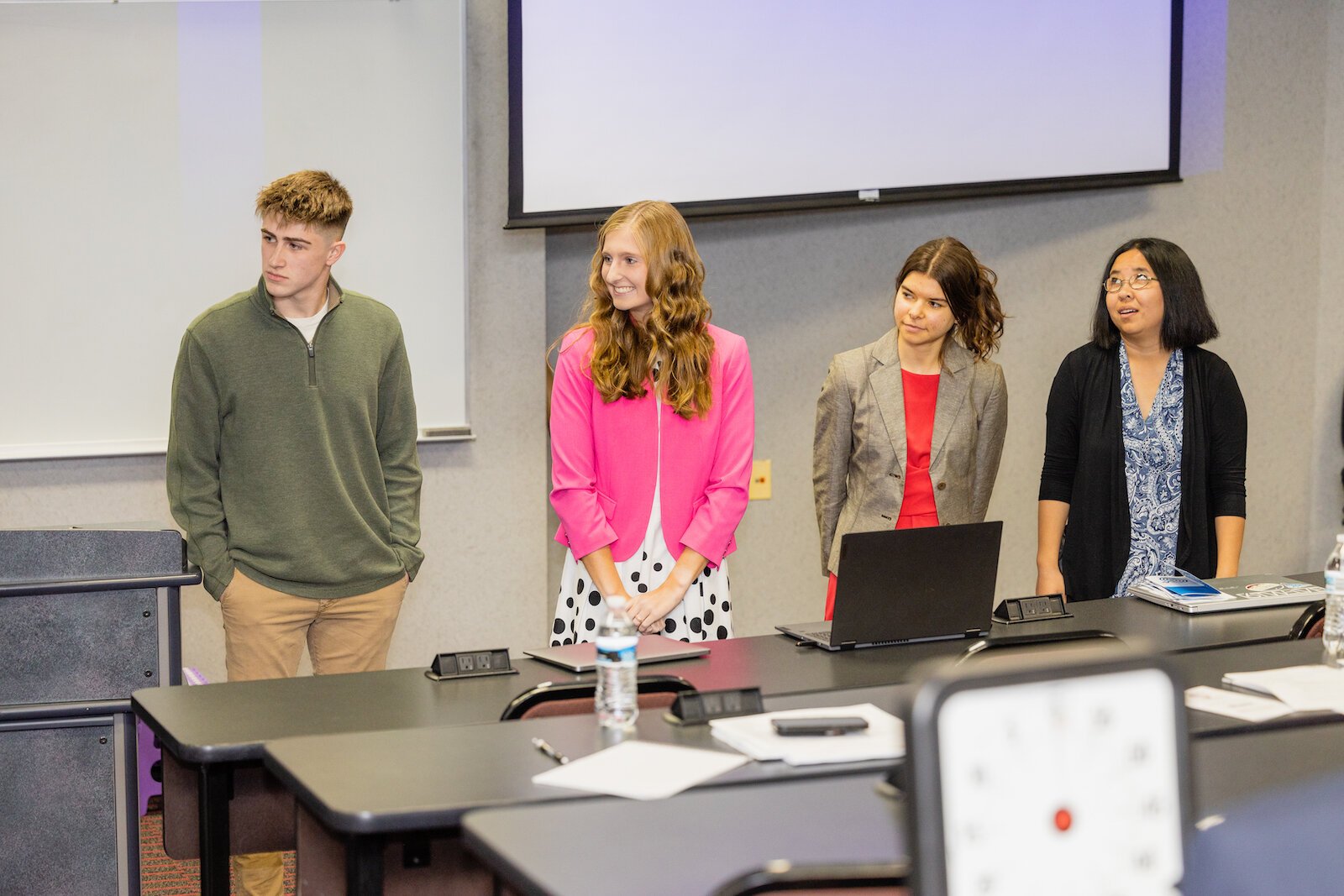 The students prepare to present their business plan for a chance to win $5,000.All Grace students with an Entrepreneurship major or minor are required to enter the competition, but any student is welcome to enter. dr Alan Grossnickle created the competition in 2013 to better educate students for entrepreneurship. Several local companies are sponsoring the competition, including Wildman Business Group, Beers/Mallers – Attorneys at Law, Horizon Bank, RSM and Hall & Marose/Silveus Insurance.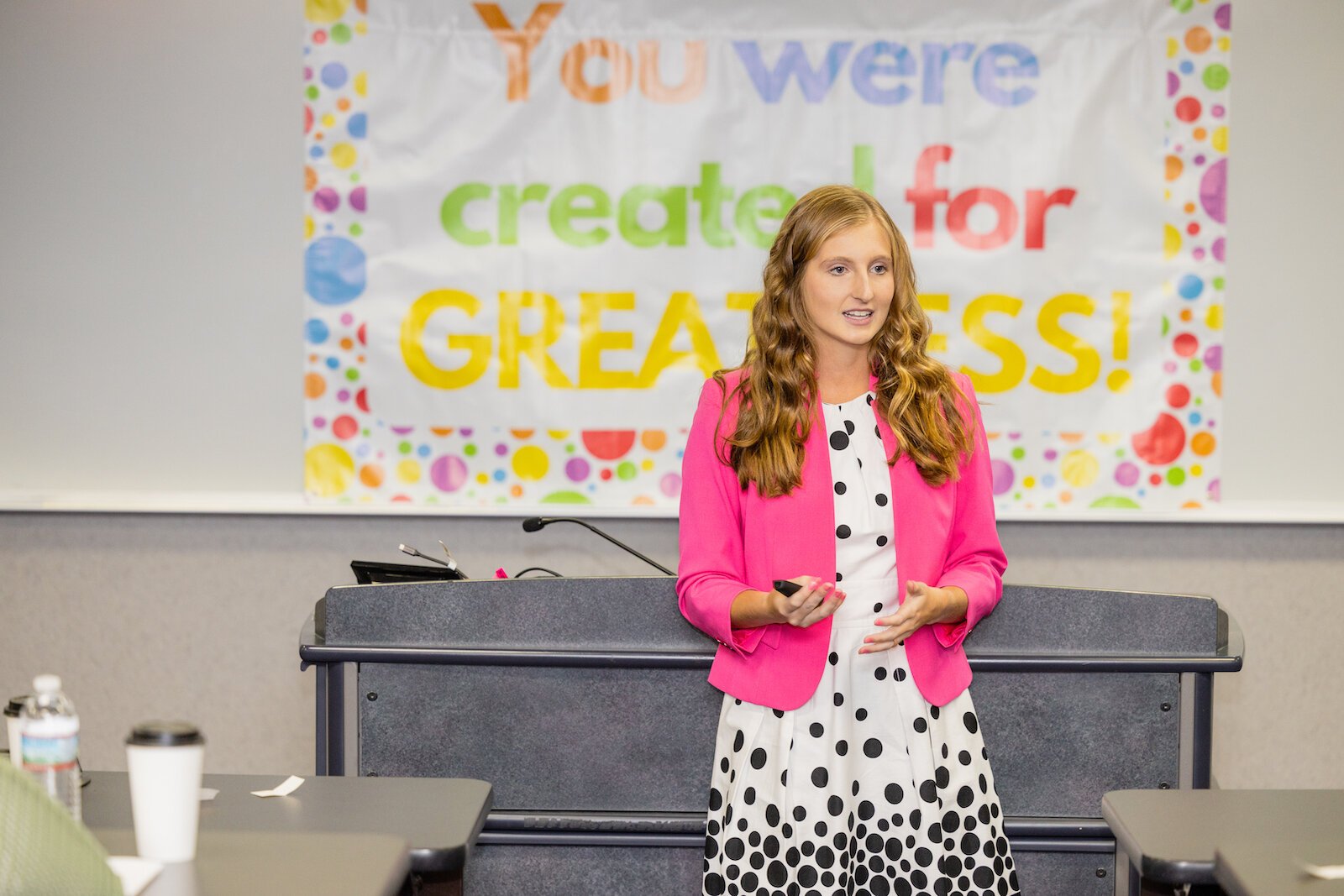 Kierstin Martin presents her company All ABoard Educators.On November 17th, two individuals and a couple presented their ideas for a chance to win $5,000.
Meet the three finalists in Grace College's business plan competition.
All ABoard Educators, 1st place
Company founder: Kierstin Martin
Major: Elementary Education, Masters in Higher Education
Graduation year: 2024
Hometown: Plainfield, Indiana
Inspired by her desire to become a kindergarten teacher, Martin Business plans to make it easier and faster for teachers to create their bulletin boards. Knowing how long it can take to create a well-planned and organized board, she looked for a product that would simplify this process and give teachers more time to spend with their students and families.
All ABoard Educators allow teachers to virtually customize their bulletin boards, saving them the time they would normally spend creating their boards by hand.
"I've been thinking about this business for a while," says Martin. "This course gave me the resources, both mentoring and financial, to make this dream of mine a reality."
Martin worked with mentors to finalize details of their plan and resolve any issues. She hopes to launch her business in the next six months to a year. She plans to use the $5,000 to create a website, register an LLC, and buy inventory to start her instant bulletin board decor business.
Kierstin Martin won first place and a $5,000 prize.


Dollar Stock Club
Company Founder: Drew Sigler
Major: Entrepreneurial Management, Masters in Business Administration
Graduation year: 2023
Hometown: Columbia City, Indiana
Sigler loves building websites and has always had an interest in e-commerce. Over the summer, he decided to combine his two interests by developing software that tracks government trades.
When the government or a politician trades a stock, Sigler's software sends text alerts to its clients so they can invest in the stock before it rises. He has already started his business with his website and business.
When the business plan competition came up, Sigler was sure that his company would have a fair chance in the competition. He sees his idea as innovative because he "created a business that no one had ever thought of."
Looking ahead, Sigler wants to get more funding for his company so he can bring it to a larger audience. He says he is proud of his company's success and looks forward to growing it in the future.
For more informations, Visit the DollarStockClub website.
Drew Sigler introduces his company, DollarStockClub.


Hopeful Handler, Dog Training LLC
Business Co-Founders: Anisa Stumbo and Hope Trentadue
Major: Entrepreneurship, Masters in Nonprofit Management; communication
Graduation year: 2024; 2023
Hometown: Denver, Colorado; Indianapolis, Indiana
Anisa Stumbo knew from day one of her studies that she would take part in the business competition, but she didn't have a business plan in mind. As much as she enjoys business planning, she realized that she didn't necessarily want to own one.
Meanwhile, Hope Trentadue had been interested in dog training for many years. When she was younger, she found a video of a dog trainer trying out his techniques on her uncle's dog. She discovered that she not only liked it but was good at it, and it led to her dream of owning a dog training business.
"As I got older, I realized that not many people know how to communicate with their dogs," says Trentadue. "Relationships between animals and humans are often tenuous, and that's a problem. So I decided this business would be important in helping people build or improve their relationships with their dogs."
When Trentadue told Stumbo about her dream of owning a dog training business, Stumbo saw how it gave her a chance to build a business the way she had always wanted and it gave Trentadue a chance to make her dream come true. While Trentadue came up with ideas, Stumbo was able to answer questions on the business side.
"I've always wanted to start this business, but I never knew where to start," says Trentadue. "We were the perfect team."
The dog training business is about one-on-one training between the dog trainer and the customer. Trentadue wants dog owners to actively participate in the training process. After the competition, Trentadue still hopes to one day launch her business, but she has put her business plans on hold for now.
"I have a better understanding of how much I need to invest in this business from the start," says Trentadue. "I learned so much about what it really takes to start a business."
And looking to the future, Stumbo wants to help other people start businesses. She sees herself working with marginalized groups and uses business as a vehicle to lift people out of poverty.
According to Stumbo, although they didn't win the competition, Hopeful Handler's low start-up costs would make it easier to start later. Whether the business takes off in the next few years or even further into the future, the plan the couple has put in place for the competition is a solid start for the dog training business.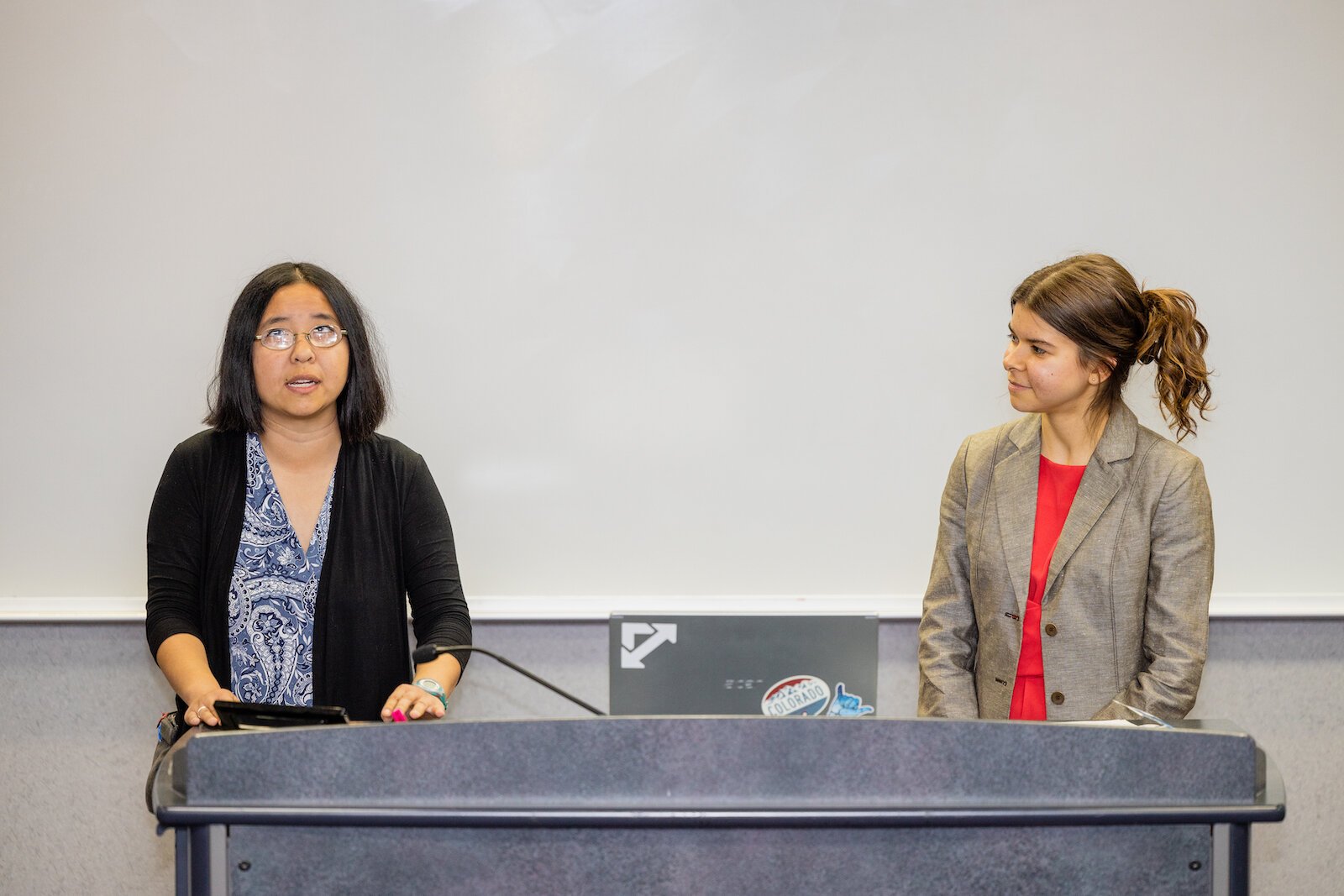 Anisa Stumbo and Hope Trentadue introduce their dog training company, Hopeful Handler, Dog Training LLC.To see previous winners of the Business Plan Contest, Visit the Grace College website.