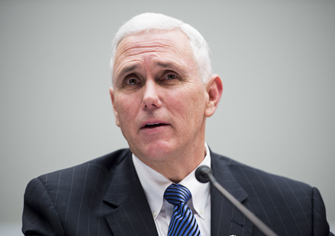 Former Vice President Mike Pence (Photo from IL file)
Former Vice President Mike Pence brought his national book tour to his home state on Tuesday night, telling a crowd in Indianapolis about his Christian faith journey, the fallout of Indiana's passage of the Restoration of Religious Freedom Act and his decision to defy former President Donald Trump's call annul the results of the 2020 election.
The former Indiana governor stopped for a book signing and speech at the Eugene and Marilyn Glick Indiana History Center a week after the release of his autobiography, So Help Me God, which has garnered him much media attention and intense speculation as to whether he will be in 2024 run for the presidency.
Pence briefly suggested that he and his wife Karen consider their future, a comment that came during a question-and-answer session moderated by former Indiana Republican Rep. Mike Murphy and attended by about 300 paying guests .
"Whatever the future holds for Karen and I, we're going to have border security," Pence said, while explaining the Trump-Pence administration has reduced illegal immigration by 90%. "We can secure our border."
The comment came as Pence explained his history of immigration policy.
Pence said that in 2006, while he was a congressman, he was invited to the White House by the Bush administration to discuss its immigration plan, which included a provision that would have offered people who had entered the country illegally a chance to become legal status.
When Bush asked Pence why he was interested in immigration since Indiana is not a border state, Pence said he cited his grandfather, Richard Michael Cauley, who came to the United States from Ireland via Ellis Island in 1923.
Pence also addressed the backlash he faced as Indiana governor after signing the controversial Religious Freedom Restoration Act (RFRA) in 2015, which opponents claimed could be used to discriminate against LGBTQ groups. Organizations including the NCAA, Apple, Salesforce and other companies have opposed the law, as has then-Indianapolis Mayor Greg Ballard, who urged state lawmakers to repeal the law or add explicit protections for LGBTQ groups.
As the state's reputation suffered and pressure from the business community continued to mount, Pence said he felt compelled to ask lawmakers to change the law to include these protections — despite his strong belief in the freedom of religious institutions.
"Things that have been said about Indiana were unacceptable and so we went to the Legislature and said, 'Let's be clear that nothing in this legislation authorizes discrimination against anyone,'" Pence said.
He continued, "I believe marriage was ordained by God. I believe marriage is between a man and a woman, but I also believe that you love your neighbor as yourself and knowing our families I can tell you that we treat everyone with respect whether we are with agree or disagree with people's views or values. "
Unlike many Republicans running for public office during the Midterms, Pence did not shy away from the issue of abortion. When asked whether the fall of Roe v. calf Pence said he will always "cherish" being part of a government that saw the appointment of three Supreme Court justices who voted to return the issue of abortion policy to the states.
He also pointed out that anti-abortion groups still have more work to do to advance their cause.
"I think it's time we redoubled our efforts to support the unborn child, support women in distressed pregnancies and support newborn babies in America," Pence said.
In his autobiography, Pence recounts his turbulent last few weeks in office, from Trump's desperate search for evidence of voter fraud in the 2020 election to the deadly January 6 Capitol riots.
The former Hoosier governor, who has called Jan. 6 a "tragic day," said his decision to oppose Trump was driven by his belief in the US Constitution.
"I have made it clear to the President time and time again in the days prior that I have no authority to refuse or return electoral votes," Pence said. "There is probably no more un-American idea than the idea that any person could choose the president."