SOUTHERN INDIANA – Anyone busy Christmas shopping this weekend can support Southern Indiana businesses on Small Business Saturday.
People in Clark and Floyd counties are preparing to help customers, offering sweet deals to shoppers who choose local support.
Simply Rooted: 213 Pearl St., New Albany
It's a jungle of tropical plants in Simply Rooted's plant shop, but the vegetation is artful, easily explained, and diverse.
A house fire that drove owner Kristin Singogo and her family from their historic New Albany home doesn't stop them from sharing their passion.
Located in Kozy Kandles in downtown New Albany, Singogo has more than 100 plants on display and there is something for everyone, at all prices.
She said she wants to share her love of plants and offers everything from starter plants to more rare finds.
"Like a lot of people, I'm a mother of toddlers in the pandemic, so I had a baby and a toddler at the time and I went crazy," she said. "And I was like, I need a hobby, I need something to do. So I started an outdoor garden and started with houseplants. There's something so healing and magical about getting your hands dirty and just doing something active."
Singogo said many of their plants were spared in the fire.
Your space at Kozy Kandles is filled with hoyas, spider plants, small cacti and more. Smaller plants start at around $5, while rarer plants are more expensive.
Each plant comes with specific care instructions and guests are welcome to contact Singogo with any questions.
"There's something really calming about tending to plants," she said. "It's like my form of self-care."
Broken Town Cereal: 216 Pearl St., New Albany
Ryan Juodikis works on the Danish raspberry flavor of Broken Town Granola at MESA Kitchen in New Albany on Wednesday morning.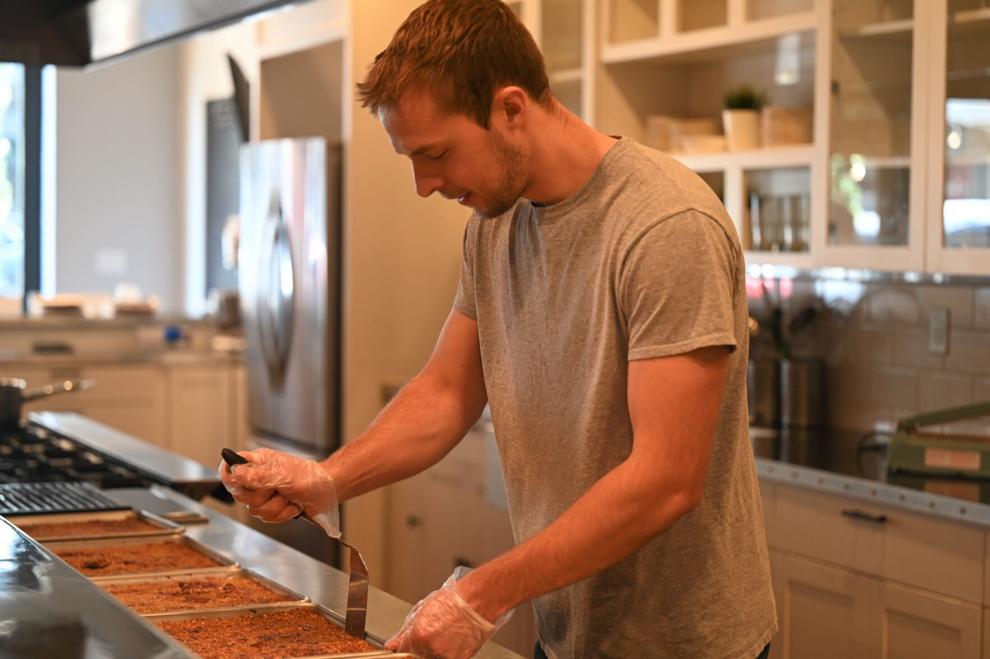 He's selling his cereal, which comes in unique flavors like Lavender Hummingbird Cake, Raspberry Danish and Whiskey Walnut, at the New Albany Farmers Market and will be at the Logan Street Market in Louisville this weekend.
Juodikis said he has been planning his cereal business since 2014 and started making the recipes himself last spring.
Granola is a unique gift, especially since Broken Town features flavors that aren't easy to find.
"It's unique, it's something you don't find in many other places, and it's food and a gift to give," he said. "And they can enjoy it and not take up space in their house forever."
Royal Couture Treats: 216 Pearl St., New Albany
Royal Couture Treats bakery owner Minniequa Johnson is preparing to open her new space at MESA Kitchen in New Albany, skipping Thanksgiving to get it all done.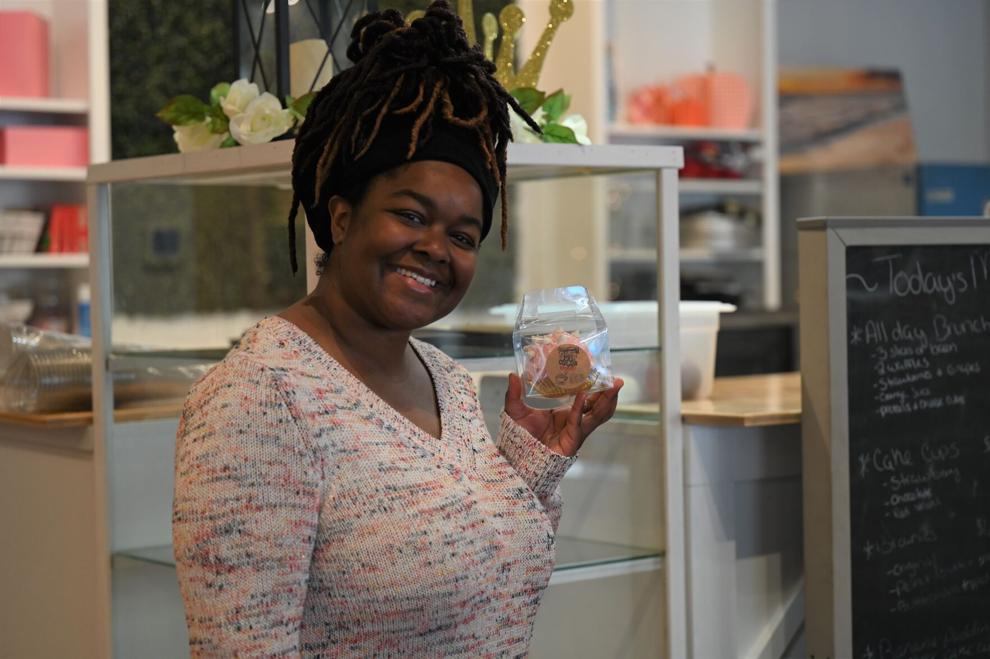 Johnson moved her bakery from the Green Tree Mall to the downtown New Albany location this week.
She will be selling her popular brownies, oatmeal cakes, cupcakes and hot cocoa bombs at MESA this weekend.
"The most important thing I learned is that people want the whole package, the whole gift set (for the holidays)," she said. "I make the hot cocoa bomb in a gift mug. You will receive your mug, fluffy socks and a chocolate mixing spoon. I box that for $17 or two for $30."
She'll also be offering her popular hot chocolate bombs for $7 each or four for $25 this weekend.
As always, Johnson is ambitious and optimistic when discussing her new location, saying the bakery business is currently facing soaring prices for items like butter and eggs.
"When we got out of COVID we thought we had this, but guess what, inflation," she said. "So inflation is what we're fighting now."
Tru Bliss Boutique: 420 Spring St., Jeffersonville
The Holiday Open House in downtown Jeffersonville earlier this month was a great day of business for the Tru Bliss boutique, and owner Yakera Lawson Fowler said she can't wait for Small Business Saturday.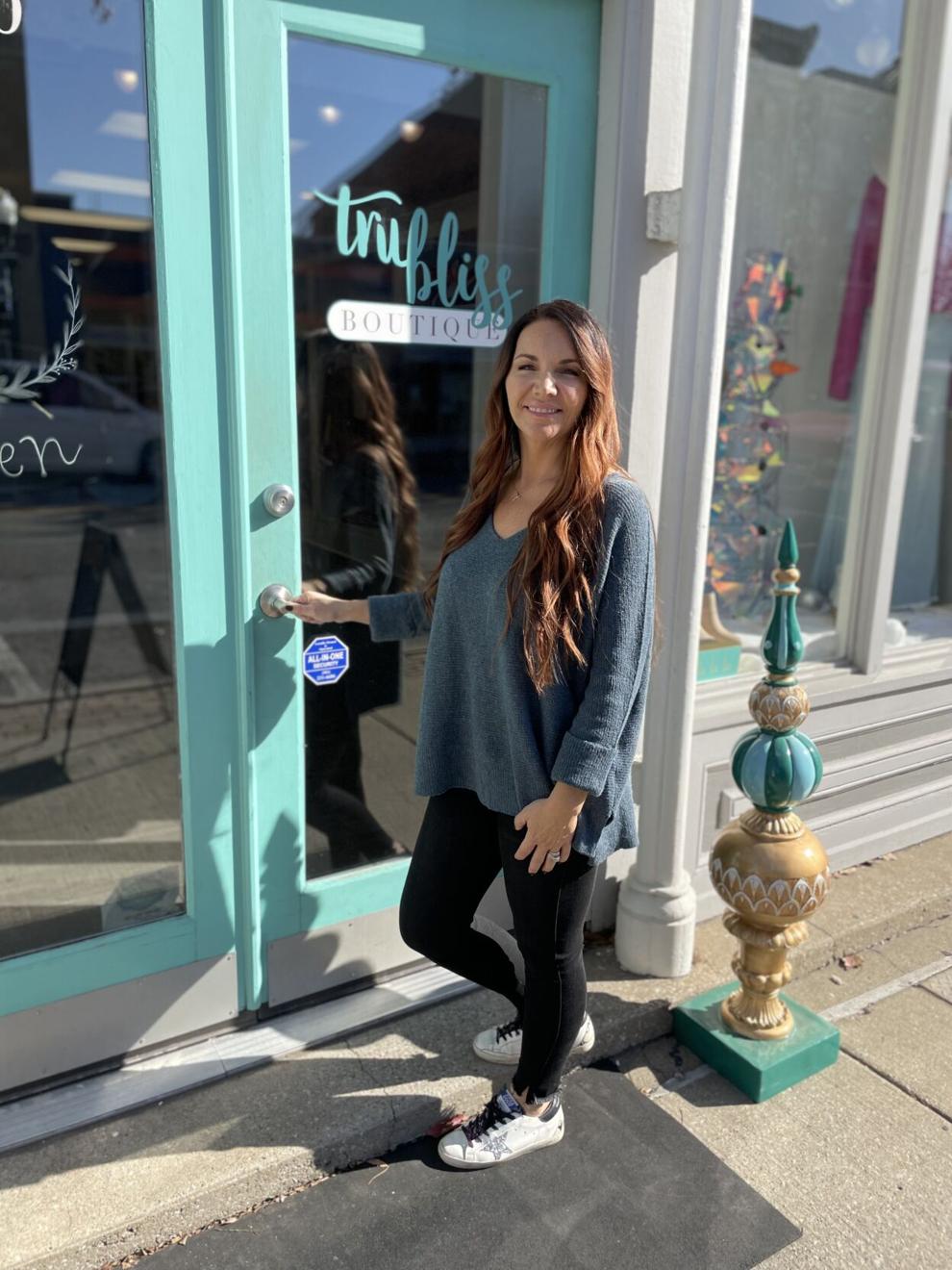 "Open house was phenomenal this year, it was one of my best," she said. "I've been here for 4.5 years and it's one of my best since I've been here."
She said events that bring customers to downtown Jeffersonville really help local businesses.
"It just brings people together. You get relationships with these people, your customers," she said. "It's just fun to shop and support us and the city."
Tru Bliss will be offering its candy cane QR code coupons this weekend, and people can scan the code to find out if they're getting a percentage off an item or a free gift.
Lawson Fowler said her store has clothing, accessories and home items for people of all ages.
"I feel like when we do things like Open House and Small Business Saturday, people come together and support small businesses," she said. "Come out and shop and let's have some fun."
Benton Fine Jewelry: 135 W. Court Ave., Jeffersonville
The insides of the jewelry boxes at Benton Fine Jewelry in downtown Jeffersonville shine ahead of Small Business Saturday.
All jewelry in stock will be reduced by 20% for the event, said owner Jim Benton.
"I really liked it a few years ago when American Express jumped on board with it," Benton said. "There are a lot of customers who appreciate going to a hometown or corner shop."
Benton offers customers great service and a personal touch for repairs, fitments and more. The family business has existed for decades.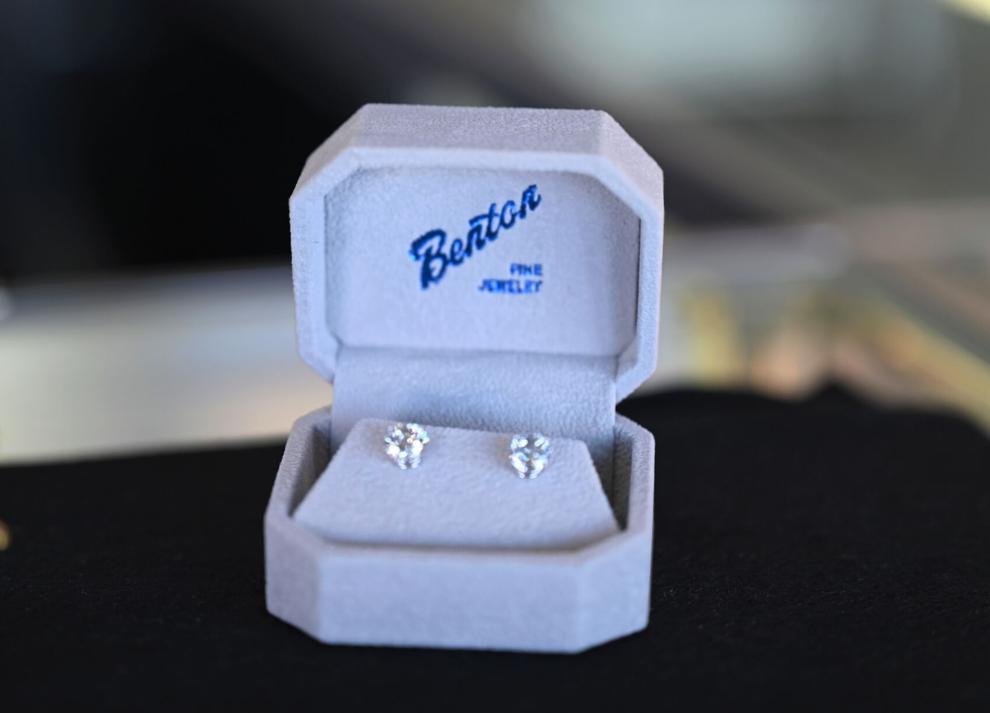 "When we sell an item, we regularly inspect and clean it," he said. "We perform lifetime watch battery replacements. When you buy a ring from us, the first sizing is free. There are a lot of little extras that small businesses offer that big stores or chains don't."
Diamond stud earrings are a popular item at the store around the holidays and Benton said they have them in all sizes.
"We carry all kinds of real colored stones, as well as gold and silver items," he said. "We have a pretty good selection of jewelry."