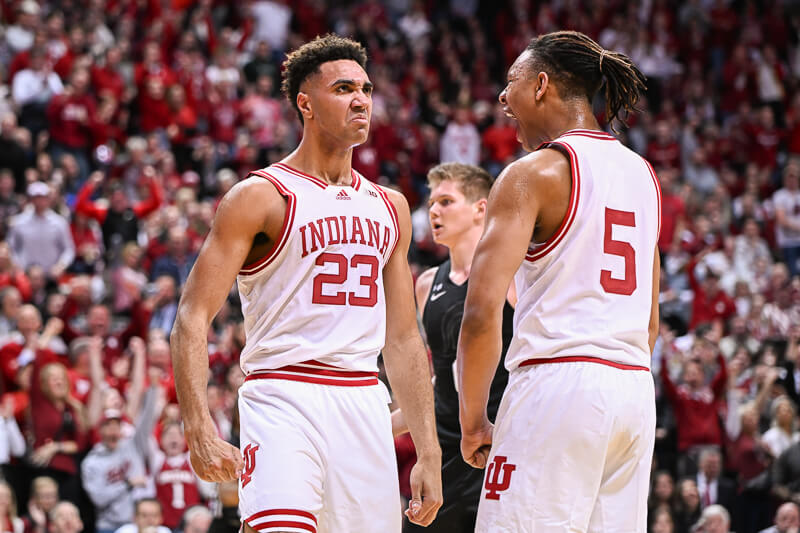 Thoughts on an 82-69 win over the Spartans:
Unlike the Illini or Badgers, the Spartans brought high intensity to this game for 40 minutes. As a result, Indiana would get no rest or mercy in a jagged affair this afternoon. If the Hoosiers couldn't keep up with Michigan State's stubborn style, had too many breaks or dropouts, a home loss could easily have gone on the ledger.
But honoring Indiana, it didn't just fit the Michigan state ride. This afternoon, the Hoosiers outdid it in more ways than one. This was an absolute team win, with almost every player who played significant minutes contributing positively to the result. Indiana was connected and determined. The Hoosiers also smiled and enjoyed themselves.
"Those last three games, man, everyone who played played a big, big part in our win." said Mike Woodson after the game.
Michigan State threw Indiana back early in the first half. IU was down 17:8 at 14:06, but it wasn't for a lack of tries or silly mistakes. The Spartans did a good job defending and denying shots, particularly against Trayce Jackson-Davis to start the competition. But Indiana just stuck with it and things started to open up. As the dust settled on an entertaining first half, the Hoosiers led by five (37-32) and beat the Spartans 29-15 to end the first 20 minutes.
Jackson-Davis began fighting his way through the post to match MSU's physicality for more points. He also dunked a house in transition, perhaps the highlight of the year so far for the Hoosiers. Jackson-Davis kept it going in the second half, slamming home alley-oops and diving with authority over Jaxon Kohler. Indiana's All-American defended the rim even without fouling. His last line was another eye-catcher in a stretch filled with them: 31 points, 15 rebounds, four assists and five blocks.
"There's nothing the guy on the basketball floor can't do." said Woodson after the game. "…He's a beautiful player to watch. I'm just glad he's in our ball club."
But it wasn't just Jackson-Davis today. Boys circled around him to help keep the Spartans at bay. Trey Galloway (17 points) fell 3-of-3 from the deep. Tamar Bates (17 points) was on a heat check in this instance and made 5 of 6 himself from within 3-point range. Some of those 3-pointers came when Michigan State sent Jackson-Davis additional aid, which helped the Hoosiers give the Spartans' defense a choice-of-venom choice throughout the game. Overall, the Hoosiers fell 60 percent (9 of 15) from deep.
And in a game prone to fouls in the second half (both Malik Reneau and Jordan Geronimo fouled), Indiana excelled at the line (21 of 24, 87.5 percent). Jackson-Davis led the charge there, hitting 11 of 13.
Indiana's defense wasn't as stifling today, but it was still light-years better than against Northwestern and Penn State as Michigan State averaged 1.02 points per possession. In a game Indiana even scored at 1.22, it was more than enough to get the job done.
Indiana has now stringed together a three-game winning streak when all seemed lost. Jackson-Davis looks unstoppable and healthier. Race Thompson made a surprise return to the pitch. The defense has found itself again. From the starters to the bench, Indiana gets big efforts and plays.
"You're not a quitter" said Woodson. "I've been part of teams that just shut it down and said, 'I'm done.' These guys are playing for something."
Filed by: Michigan State Spartans