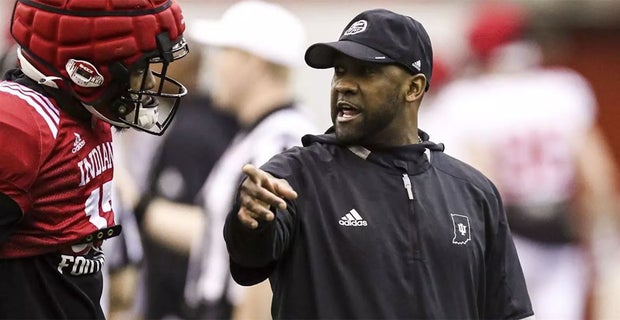 North Carolina will be hiring Jason Jones as the cornerbacks' new coach, confirmed a source close to the situation In carolina on Sunday evening. On3's Matt Zenitz was the first to come forward. Jones, a defensive back as a collegiate player for Alabama from 1996-2000, coached safeties in Indiana for the past three seasons.
Charlton Warren, UNC defense coach and co-defensive coordinator, worked with Jones in Indiana during the 2021 season.
Indiana ranked first in the Big Ten and second nationally in interceptions in 2020 seasons with 17 (five were grabbed by safeties). The Hoosiers' runners-up fell to last in 2021 and 12th in 2022. Indiana ranked last in the Big Ten for total defense (449.3 yards per game) and goal defense (33.9 points per game) last season.
Prior to Indiana, Jones coached cornerbacks at Florida Atlantic in 2019 and was the co-defensive coordinator and defensive backs coach at Ole Miss from 2013-2018. He has also trained at Oklahoma State, Tulsa and Rice. Jones was a graduate assistant at Alabama from 2003-2004.
Jones replaces former UNC cornerbacks coach Dre Bly, who left North Carolina on Jan. 11 after four seasons on the staff under head coach Mack Brown. Bly coached in North Carolina for four seasons, arriving in late 2018 after Brown was hired to return to UNC for a second stint in charge of the program.
At Carolina, Bly has been recognized as one of the top recruiters and has helped sign some of the highest-ranking and brightest talent over the past five recruitment cycles. Bly played a role in recruiting Sam Howell, Josh Downs, Tony Grimes, Cedric Gray, Drake Maye, Keeshawn Silver, Zach Rice, George Pettaway, Tayon Holloway, Tychaun Chapman and Marcus Allen.
After the 2022 season, cornerbacks Tony Grimes, Storm Duck, Dontae Balfour, and Tymir Brown all entered the transfer portal. Virginia Tech CB Armani Chatman and East Tennessee State CB Alijah Huzzie were among 10 transfers UNC added since the season ended.
Jones has five seasons as an assistant coach with the Big 12 (2008-12 at Oklahoma State), six seasons with the SEC (2013-18 at Ole Miss), and three seasons with the Big Ten (2020-2022 at Indiana).
He has coached four Jim Thorpe Awards semifinalists and one Bronko Nagurksi Awards finalist. He has served on the staff of five conference championship teams and coached in 14 bowl games, including two New Year's Six games. Mike Gundy, Hugh Freeze and Lane Kiffin are some of the notable head coaches Jones has worked under.
In 2020, Jamar Johnson became the first Indiana safetyman to receive first-team All-Big Ten honors since Eric Allen in 1996. Johnson finished third in the conference and eighth nationally with four interceptions. He was selected in the fifth round of the 2021 NFL Draft by the Denver Broncos.
During Jones' stint at Florida Atlantic in the 2019 season, Meiko Dotson earned first-team All-Conference honors and shared the national lead with nine interceptions. Florida Atlantic led the nation with 33 takeaways en route to winning the Conference USA title and the Boca Raton Bowl.
At Ole Miss, Senquez Golson was a first-team consensus All-American and Nagurski finalist under Jones. Golson, a later second-round NFL draft pick by the Pittsburgh Steelers, and cornerback Mike Hilton and Senquez were Thorpe's semifinalists. Ole Miss went 10-3 in 2015 and won the Sugar Bowl.
Jones' Oklahoma state cornerbacks included Justin Gilbert, the No. 8 pick overall in the 2014 NFL Draft by the Cleveland Browns. Perris Cox (2009) and Brodrick Brown (2011) were Thorpe semifinalists, while six different Cowboys under Jones earned first-team All-Big 12 recognition. Oklahoma State shared the Big 12 title in 2010 and won the league outright in 2011. The 2011 team led the nation at takeaways and defeated Stanford in the Fiesta Bowl.
Jones helped Tulsa to the Conference USA titles in 2005 and 2007. In between, he helped Rice weather a 45-year bowl drought. Jones oversaw the cornerbacks for those three seasons, adding special teams coordinator duties in 2007.