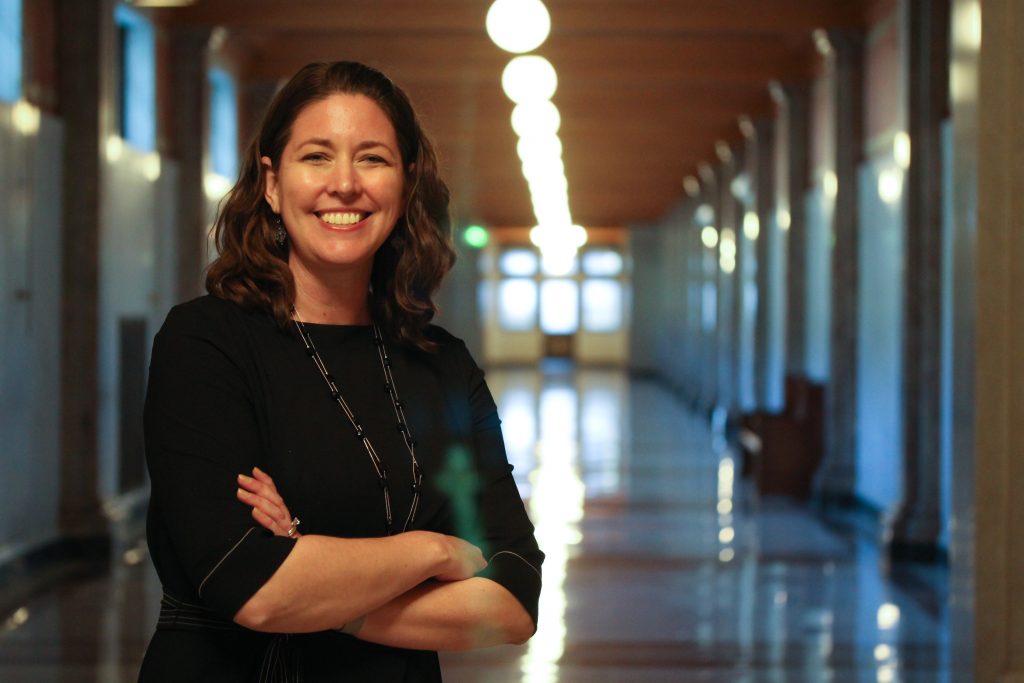 Kellie Barr, Judge for the Southern District of Indiana. (IL Photo/Katie Stancombe)
After serving as a US District Court clerk for Judge Jane Magnus-Stinson in the Southern District of Indiana for nearly seven years, current Judge Kellie Barr knew what she was getting into when she accepted an opening at the busy court applied .
"I really knew what this job was and what the court needed from someone in this role, and I thought I could offer it," Barr said. "I thought I could do the job really effectively because we're very busy."
Barr, a former paralegal and in-house counsel at Indiana University Health, was elected the Indiana Southern District Court's newest magistrate earlier this year. She began her duties on November 1 after being sworn in during a private ceremony on October 31.
Barr succeeds now-retired judge Debra McVicker Lynch, who officially transitioned on October 31.
After graduating from Indiana University's Maurer School of Law in 2006, Barr worked for then-Chief Judge John Baker at the Indiana Court of Appeals and spent two years as an Associate in the Litigation & Appellate Services Group at Bose McKinney & Evans LLP in Indianapolis .
She then moved to Indiana Southern District Court in 2010, where she remained in Magnus-Stinson's chamber until 2017. Barr then worked in the legal department of IU Health, where she rose to become Assistant General Counsel for IU Health and Lead Counsel for IU Health Physicians.
Erin Lewis, IU Health's senior vice president and general counsel, was thrilled to hear that her colleague was applying for the position of magistrate judge.
"I was so excited for her," Lewis said. "I knew she would get it."
Lewis said she "implicitly" trusts Barr's legal skills, noting that it's even more important that Barr makes litigants in her court feel welcome, seen, and heard on their worst days.
"Litigation parties before their will, whether they feel like they got what they wanted or not, feel like they've had a fair shake," Lewis said.
Baker described Barr as having a "great legal mind" and an ability to show compassion.
"One of the things I expect her to emulate is that sense of team spirit with the team of people she works with," Baker said. "She is a wonderful person."
Former Bose McKinney & Evans colleague Alan Townsend described Barr as a "quick study" and said Barr was perfect for the magistrate's office.
"You see such a wide variety of disputes and you need to be knowledgeable about everything that comes on your desk. You have to know a lot about a lot," he said. "It has more than enough capacity for that."
In a Q&A with Indiana Lawyer, Barr said her extensive range of legal experience, coupled with her efficiency and willingness to hit the ground running, will help her serve in one of the busiest federal courts in the nation.
Indiana Attorney: You only joined the bank on November 1st. How was your first week at work?
bars: It was great. I will say that my colleagues were great; welcoming me and making sure I feel comfortable when I can get started right away. My staff was great. They were wonderful at getting me going. Other than that, I just prepared myself every night and did my best every day.
Was it as you expected?
Yes. we are very busy I think the last stats I saw were by weighted case count, we were first overall 7th circuit and 7th in the nation. So I knew the court needed someone who could really take off.
You obviously know that this is an extremely busy court. So how do you plan to participate in the effort to ensure timely and effective administration of justice?
I believe in early case management and the involvement of a magistrate. I will try to get involved in cases early on to really understand them and help the parties work towards the hopeful solutions. Well, obviously I inherited a docket, right? It's not like I have 400 new cases, I have about 400 cases, all at different stages of litigation. So for now I'm just trying to get a feel for what the plan is and where I can be most effective from the start.
How would you describe yourself in a few words to someone you have never met?
Efficient, personable and optimistic. I think that because of my career, I've really seen all the different types of cases that go through this court, or versions of those types of cases. I feel like a generalist, which I don't think is very common anymore.
Do you think this will do you any good?
Yes, hands off. Because we see everything from antitrust litigation and personal injury cases, to diversity jurisdiction, criminal cases, civil rights cases in prison, to complex contracts or labor disputes. I don't claim to be an expert in any of these areas, but I have experience in all areas that I think will serve me well.
You have a BA in Psychology and Language and Hearing Sciences with a minor in Spanish. What made you decide to study law afterwards?
I've had a few college professors say to me, "Have you ever considered law school?" and my answer was no. I've found in my life now that when (you hear a few) people you respect and admire say the same thing, they probably saw something in you that you might not have seen in yourself. I thought, "Well, I can look into law school." I took the LSAT and followed this path. As a lawyer, I now fully understand why they said that. I love reading, researching and writing. I really enjoy people and the law in general.
After graduating from law school, you worked for Judge John Baker and later Judge Jane Magnus-Stinson. What are the key insights you took away from these traineeships?
My big takeaway from those two traineeships is that you really have to look at cases from almost 10,000 feet. Sometimes attorneys get bogged down in many of the details of a case and lose sight of the big picture of what various motivations are or what is in the best interests of their clients in a particular situation or what the possible redress is for their clients.
What are you looking forward to most in your time as a judge?
I look forward to the variety of cases; the breadth of the different types of cases we have. That's exciting for me. I look forward to getting to know the lawyers who practice here regularly. I am very much looking forward to being the judge for my trainee lawyers. I know how special this relationship is and I look forward to accompanying my current and future legal trainees on their journey into the profession.
When you have free time, what is your favorite thing to do?
I'm a big book reader, I'm also a peloton member and I spend time with my family.
Tell me about your participation in the Indiana Southern District's Recruited Counsel Program and what that means.
Local Rule 87 provides a mechanism for attorneys to act as enlisted attorneys for typical prisoner civil rights cases. We have many more cases that require counseling than we have available. Seeking an opportunity to get more involved with federal court, I was appointed pro bono in a civil prisoner case and represented a client in a settlement conference that successfully resolved the case.
I would love to see more in-house attorneys take advantage of this program in the future. I think it's a win-win for the court in that we get wonderful lawyers for clients who have a real need, as well as an in-house lawyer who can appear in court.
You are an active member of The Law Division's IndyBar Women and Beyond the Book Club. Do you have plans to start a book club here at court?
I'm also technically part of another book club. So adding another book club could be a bit of a commitment. But as I understand it, there are already some members of the court who might informally have book clubs. Maybe I'll be lucky enough to get an invite.
Do you have any favorite books you've read this year?
I just finished "All Good People Here" by Ashley Flowers, "Cloud Cuckoo Land" by Anthony Doerr and the third is "Carrie Soto is Back" by Taylor Jenkins Reid.