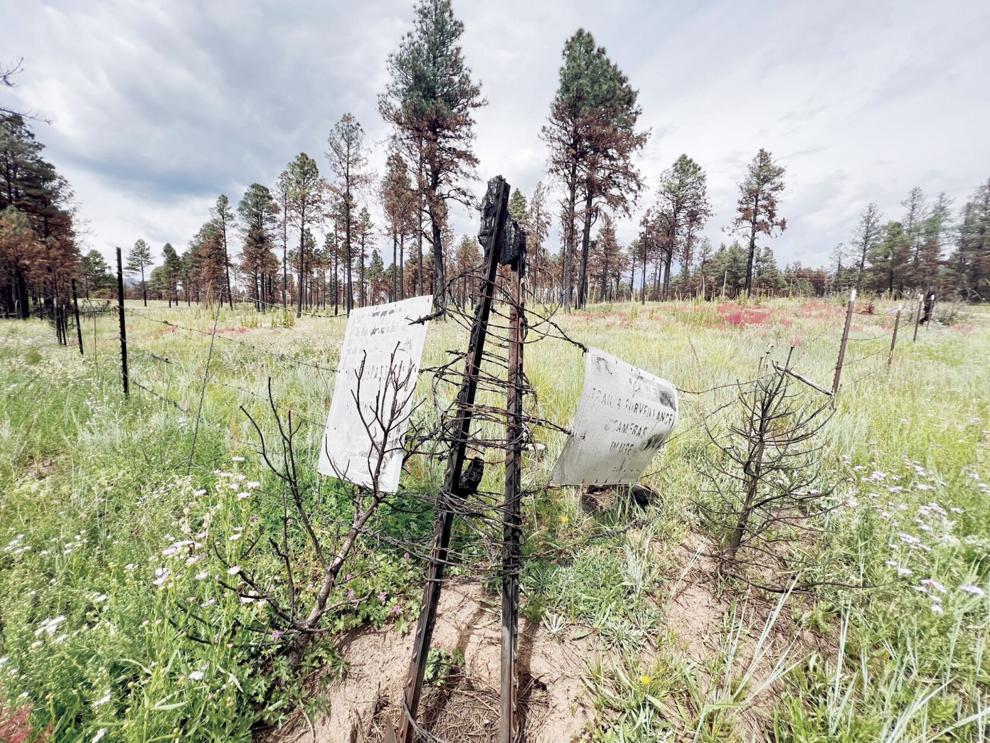 A week before Congress authorized spending $2.5 billion to fully compensate victims of botched prescribed burns that escalated into New Mexico's largest-ever wildfire, the agency responsible for paying victims began hiring private companies to do much of the work.
The September 22nd "Request for Information" by the Federal Emergency Management Agency asks companies if they have the capacity to direct essential aspects of the Hermit's Peak-Calf Canyon Fire Safety Office. The request calls for a contractor to help with "every step" of the claims office's development, creating a claims management website and call center — as well as investigating and recommending compensation for victims.
The request also provides more information than FEMA has publicly released about what agency officials are predicting for a unique bureau to be established, including who might work there and how many people they think might make claims. This is only the second time FEMA has been tasked with fully compensating victims of a fire or disaster. It usually only pays limited amounts to victims to help them in the immediate aftermath of disasters.
Part of building a brand new program like this means relying on outsourcing, according to a FEMA spokesman. The agency doesn't have much experience handling claims outside of its flood insurance program, said Angela Gladwell, a FEMA official and director of Hermit's Peak-Calf Canyon Claims Office.
"We're still working on the details. But again, our office will be a mix of federal staff, hired locally as much as possible, and contract staff…" Gladwell told Source New Mexico. "So we're going to try to bring in many of the experts we need to help us, particularly in evaluating these different types of losses that you don't find in a lot of other places."
The first time FEMA was tasked with fully compensating victims was the 2000 Cerro Grande fire in Los Alamos, and much of the new claims bureau is modeled after that.
However, according to a review of federal contract records, FEMA has not outsourced many or all of its duties under the Cerro Grande Fire Assistance Act.
Gladwell said FEMA expects a mix of FEMA employees and contractors to oversee various aspects of the program, although officials said they don't yet know exactly what the mix will be.
The agency has not yet advertised an order from the damage department. Government records don't say how much contractors would make if they won a bid for the claims office.
The Hermits Peak-Calf Canyon Fire resulted from two escaped mandated burns started by the Federal Forest Service earlier this year. It burned more than 530 square miles, mostly in San Miguel and Mora counties, along with 1,000 buildings. After that, flooding over scorched ground caused further widespread damage.
On September 29, Congress agreed to provide FEMA with $2.5 billion to help restore victims' health after the fire, including replacing destroyed homes, paying for lost business income, rebuilding burned landscapes, and paying them countless other casualties during the months-long catastrophe.
According to the "request for information," FEMA intends to ask a private company to provide up to 70 employees for two offices the agency will open to help process claims. This includes 15 damage assessors, 10 customer service specialists, five site inspectors and a team to create and maintain a website. Among others, two economists, ecologists, data scientists and civil engineers are wanted.
In particular, it does not seem keen to hire someone to act as something of a "navigator," which members of Congress have called for and cited as why fire victims should feel comfortable filing a lawsuit without the help of private counsel . A "navigator" would advocate for a plaintiff during the trial.
FEMA spokeswoman Angela Byrd said the agency is "currently mapping out the entitlement process" and may update requirements for contractors before it begins accepting applications for their hire.
"We … continue to collect input from stakeholders and communities to inform this process as well as the final regulations," she said. "An example of the feedback received is the importance of navigators and providing multilingual access to materials and services."
The FEMA document states that a contractor should expect 25% of all calls to require Spanish translation. In San Miguel County, where many fire victims live, about 23% of households speak less than "very good" English, according to Census figures. It's about 13% in Mora County, which also suffered extensive fire damage.
The "request for information" is a way of assessing whether private companies will be able to meet the requirements of the new claims bureau, Byrd said. The agency did not respond to a request for comment, as many companies have responded.
FEMA is asking a contractor to develop a system that can accommodate a total of 30,000 registrations, including spikes of up to 1,000 per day. The call center should be able to process 50 calls per hour on the first day of operation. The calls are expected to last an average of 25 minutes, the document said.
"The (Request for Information) was prepared as an estimate to estimate the contractor's available support capacity and is not indicative of final claims processing projections," Byrd said.
The document also urges each contractor to recruit New Mexico firms and hire local residents to the greatest extent possible, although this does not appear to be required. The agency will host events to hire local residents in the coming weeks, officials said. Having New Mexicans in key positions will help the agency understand the unique needs of those recovering from the fire, Byrd said.
FEMA did not respond as to why it did not impose job requirements, only saying that the document was written to assess the capacity of contractors and that the agency "recognized the importance of integrating local voices and expertise into this office and ultimately the entitlement process to be fulfilled." understands the unique needs of affected communities."
A spokeswoman for US Representative Teresa Leger Fernandez, to whose district the burn scar belongs, referred the statement to FEMA, as did US Senator Martin Heinrich's office.
An aide to U.S. Senator Ben Ray Lujan, who co-sponsored the bill approving the $2.5 billion program, said his office is working with FEMA to understand the interim rules the agency released last week published and move forward.
"We have a responsibility to ensure that FEMA establishes and executes the requirements of the bill," his office said in a statement. "The Senator remains focused on delivering the $2.5 billion in relief supplies he has secured for victims of the Hermit Peak Calf Canyon fire."
This post first appeared on sourcenm.com