ALBUQUERQUE, NM – Danny Gonzales, entering his fourth season as head football coach with his alma mater, has added Cornelius Williams, Cam Blankenship and Joe Scelfo to the offensive staff. Williams will serve as receiver coach, Blankenship will coach the offensive line and Scelfo will coach tight ends.
New offensive coordinator Bryant Vincent and Heath Ridenour will coach quarterbacks, and Ridenour will also coach at all positions in multiple facets of offense. Jamie Christian will remain the running backs coach and continue to serve as special teams coordinator.
"I'm really looking forward to the new coaches as they all come from successful programs and have successful backgrounds as former players and in student athlete development," said Gonzales. "I love the energy around the building and look forward to getting onto the practice field. The spring drills can't get here soon enough."
With the offensive personnel changes, Jason Lenzmeier, who was in his third stint as an assistant coach with New Mexico, will not return, and Brandon Blackmon, who was an original member of the first staff as receiver coach, will also not return.
"I'm very grateful to Coach Lenzmeier and Coach Blackmon for their work with the program," Gonzales said, adding, "Jason Lenzmeier is a great all-time player for UNM, he's a Lobo for life and I know he is will be a success whatever the future holds for him."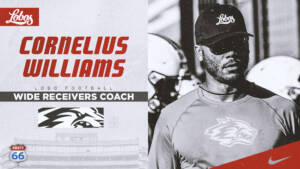 Williams joins UNM from the University of Alabama, where he was an offensive analyst under Nick Saban last season. The Crimson Tide ranked No. 5 in the final CFP poll, going 11-2 and winning the Allstate Sugar Bowl 45-20 against Kansas State. The Crimson Tide averaged 41.1 points per game and 477.1 yards of offense per game in 2022. Prior to Alabama and a stint as a receivers coach in Auburn, Williams spent six seasons with his alma mater Troy as receivers coach.
With Troy from 2015-2020, the Trojans had back-to-back double-digit wins, 10-3 in 2016, 11-2 in 2017 and 10-3 in 2018. He also served as Troy's passing coordinator from 2019-20, and overall saw he, in his six seasons, as 12 of his players received post-season honors.
Williams, who won four Sun Belt titles as a player at Troy, has also been a coach at UAB (2014), Jacksonville State (2013), North Alabama (2012), and Murray State (2011).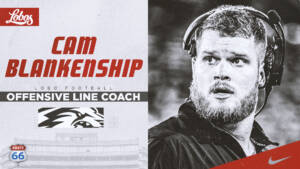 Blankenship comes to UNM from UAB, where he was an offensive line coach. He has supported the program in various capacities since 2016, originally as an Assistant Strength Coach. Blankenship has been part of three bowl wins and two championships since the program was revived for the 2017 season.
A former player at UAB from 2012-14 and then in his final season in 2015 at South Alabama, in 2022 he coached an offensive line that averaged over 200 yards per game and checked in at 235.6 yards for a third straight year. The O-Line has been a strength at UAB with Blankenship as the O-Line led the nation in 2020 with just four sacks allowed (over nine games).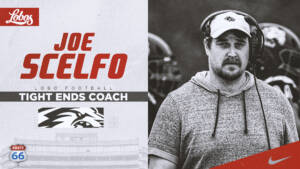 Scelfo spent last season at Gardner-Webb in Boiling Springs, North Carolina, where he served as run-game coordinator and offense line coach. Scelfo helped lead the Bulldogs to the 2022 FCS playoffs and reached the second round. Last year, Gardner-Webb averaged 32.2 points per game and rushed for 2,323 yards a year, including a 1,000-yard rusher.
Prior to GW, Scelfo coached the inside offensive linemen at nationally ranked Southeast Louisiana for two seasons. A former free agent with the Houston Texans, he played in South Alabama from 2013-2015 and received All-Sun Belt Honors before playing for one season at NC State as a graduate transfer and being named NC State's Most Valuable Offensive Lineman.
New Mexico opens the 2023 season on September 2 on the road at Texas A&M before opening the home game schedule on September 9 and 16 with back-to-back home games with Tennessee Tech and New Mexico State. Spring training starts on February 13th.