The Cowgirl basketball team got off to its best start in over a decade in 2022-23, starting the season 3-0 for the first time since 2011-12, with victories in the RMAC/Lone Star over state rivals Western New Mexico and Eastern New Mexico im Wilson Complex last weekend and another on the road against Northern New Mexico. The Cowgirls are a new group this season, with all five of their starters joining the team from either the transfer portal or from the junior college ranks. This new group is in full swing and everyone involved is excited to see what's in store for the cowgirls this season.
"What excites me the most is this group of young women that we have here," said NMHU head coach Garrett Sherman. "They all believe in our core values ​​and want to play for each other."
Finding players who committed to the culture Sherman was trying to build was paramount in attracting players to this program. To build that culture, Sherman wanted players who came from winning programs because they know what it takes to win and the work that goes into it. Having a largely new team can be difficult, especially early in the season. Time the team has spent together has been limited, but this group has been on the same page earlier this season and early results are positive.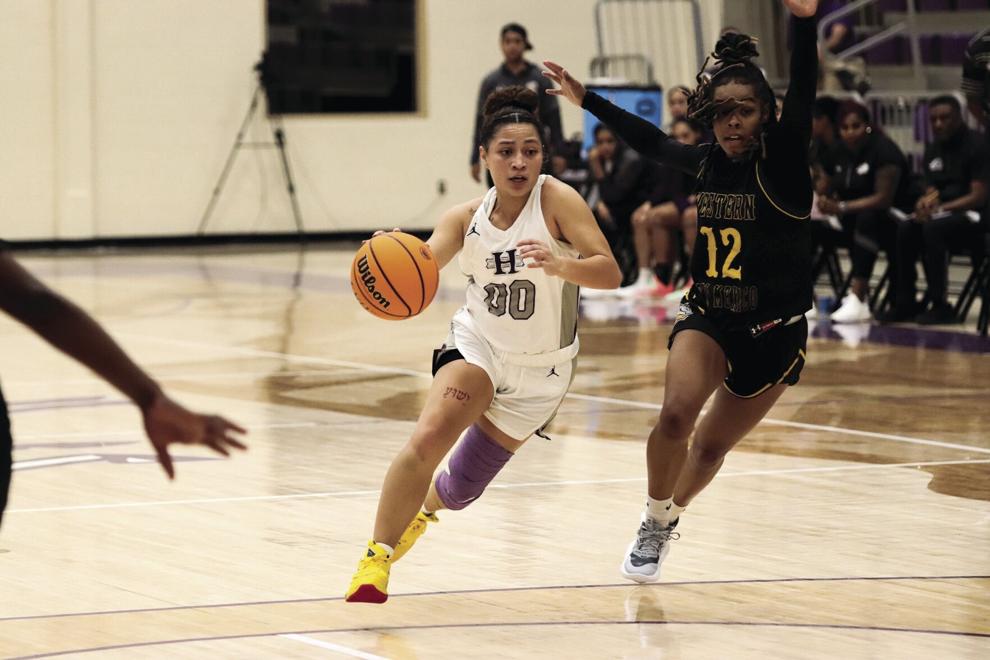 A big part of the Cowgirls' style of play this season has been how interchangeable many of their players are, especially on the fringes. The Cowgirls often play with four guards for a post player, and the four guards often play something like positionless basketball. That's where the sport has evolved in recent years and now cowgirls are doing something similar.
"We have a lot of girls who can play basketball and shoot and handle it," Sherman said. "A lot of these girls are interchangeable and I think that's an advantage for us."
Guards Delani Harris and Krystina Hagood were the leaders of the Cowgirls' interchangeable offense earlier this season, with the two averaging 28 points and 13.5 rebounds combined in their first two games this season. Rachael Niles, a Fairleigh Dickinson graduate, will be a key cog in cowgirl offense this season. Almost all of the interior work this season will be done by Neysa Munguia and Aja Scott, who are returning to the Cowgirls after a solid freshman 2021-22 season, bringing a different element to shooting the basketball with their size and skill.
The Cowgirls have three more games against in-state and out-of-conference opponents when they travel to Hobbs next week to play in a doubleheader at the University of the Southwest and Northern New Mexico on November 26 at Welcome Wilson Complex The current focus there is always on their RMAC opponents, where they look to improve a 3-18 mark in conference play a season ahead. This season, Sherman is relying on the foundation his players built during the offseason and their early-season training. RMAC is one of the most competitive conferences in the country, meaning the Cowgirls will have plenty of close games to play over the next few months, but they already showed their ability to close games in their 55-53 win over Eastern to win New Mexico. With that foundation of competitiveness and ability to win tight games, Sherman wants to see his team continue to build as the season progresses.
"We have a really good foundation because we're super competitive, we have players that play for each other," Sherman said. "It's really a good team atmosphere and culture when we're able to stay healthy and keep things going the way they are right now and continue to build up should we be fine."
Next, the Cowgirls will travel to Hobbs for two games against the University of the Southwest on November 21-22. The Cowgirls will return home to take on Northern New Mexico on November 26 for one final upset in the RMAC game that begins December 2 against Colorado Christian in Lakewood, CO. This season's goal for the Cowgirls is to reach the RMAC tournament. and a quick start in early December would get very close to that goal.