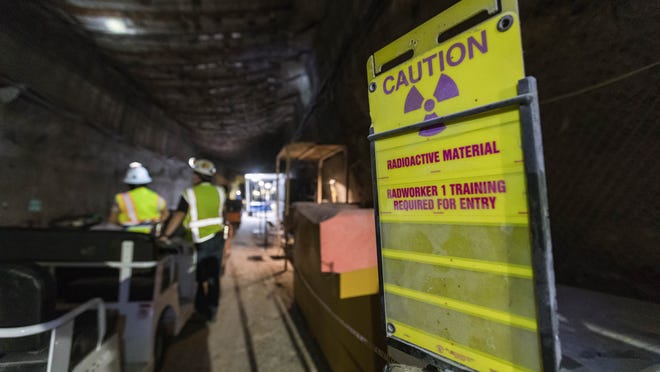 Nuclear waste managers said shipments of waste to a federal storage facility near Carlsbad increased in late 2022 and early 2023 as workers moved from an area contaminated by a radioactive release.
The seventh disposal pad of the Waste Isolation Pilot Plant was contaminated in 2014 after a barrel of waste burst, resulting in a three-year halt to underground storage and mining activities.
This delayed the filling of Panel 7, which remained contaminated by radioactivity, limiting operations even after the facility reopened in 2017.
More:New Mexico nuclear waste project rejected in latest poll, company pledges local support
This slab was recently filled and sealed, allowing workers to move into uncontaminated slab 8 and proceed with nuclear waste disposal.
At WIPP, transuranic (TRU) nuclear waste will be shipped to site from US Department of Energy facilities across the US and permanently buried in a salt deposit approximately 2,000 feet underground in an area approximately 30 miles east of Carlsbad.
WIPP officials announced a "successful seven-week" stretch via a Tuesday announcement, during which the repository accepted more shipments of waste, with 70 shipments received between November 20, 2022 and January 1 since Panel 8 opened.
More:Feds push plan to dispose of plutonium at nuclear waste repository near Carlsbad
Six shipments were accepted for the week of November 20, 2022, similar to what was reported for all of last year, and weather delays reported by the DOE resulted in a drop of just two shipments the following week.
But for the week of December 4, 19 shipments were accepted by WIPP, records show, and after falling to five shipments for the week of December 11, shipments for the week of December 18 rose again to 18.
The DOE reported 11 and 9 shipments in the weeks of December 25 and January 1, respectively.
More:New Mexico's nuclear history is celebrated in the national stamp collection, despite the repercussions
WIPP's goal this year is to accept 17 shipments per week, according to the DOE, after shipments have dropped to an average of five shipments per week since the COVID-19 health crisis began in March 2020.
Sean Dunagan, president of Nuclear Waste Partnership — the DOE-hired contractor who manages WIPP's day-to-day operations — attributed the surge to the closure of Panel 7 and a return to "normal" operations.
"The return to normal emplacement activities has enabled us to increase the efficiency of waste treatment," he said. "Crews have recently achieved a more than 50 percent increase in our underground landfill capacity. This has resulted in increased WIPP capacity when accepting shipments and will result in faster clean up of generator sites."
More:New Mexico is seeking nuclear waste permitting contributions for a repository near Carlsbad
Of the 70 shipments received in recent weeks, 55 came from the Idaho National Laboratory – WIPP's largest shipper under a settlement agreement between the federal government and the state of Idaho.
Another 14 came from Los Alamos National Laboratory in northern New Mexico, and one shipment came from the Savannah River site in South Carolina.
"Our goal is to continue stable, safe and compliant operations so that we can consistently return to these levels in the near future," Dunagan said.
More:Air projects at nuclear waste repository near Carlsbad move forward after delays
Shipments of non-governmental waste to WIPP in southeastern New Mexico have drawn criticism from New Mexico Department of Environment Cabinet Secretary James Kenney as NMED worked to complete an extension of the DOE's 10-year permit to operate WIPP.
The draft permit, released in December 2022, included, among other amended provisions, wording that required the DOE to "prioritize" waste from New Mexico facilities, primarily Los Alamos legacy waste left over from the Cold War.
A public comment period on the renewal of the permit has been opened until February 18, with a final decision expected by the end of the year.
More:Nuclear waste lies untreated on the Carlsbad area while the FBI figures out what to do
The lab could also soon generate more new waste, as the DOE plans to ramp up production of plutonium pits, the triggers for nuclear warheads, at Los Alamos to 30 pits per year by 2026.
"We want to make sure we have enough space at WIPP for all of New Mexico's legacy inventory," Kenney said.
He criticized the DOE's agreements to prioritize waste from other states, such as the department's 1995 agreement with Idaho.
More:Nuclear waste policies proposed for the Carlsbad-area site drew criticism from watchdogs and local leaders
Since WIPP began disposal in 1999, about half of the waste has come from Idaho — 6,784 of the total 13,318 shipments as of Jan. 14, DOE records show.
Approximately 11 percent, or a total of 1,593 shipments, came from the Los Alamos and Sandia National Laboratories in New Mexico over the life of WIPP.
"We want to make sure all permitters are held accountable, including the waste in New Mexico that was clearly defaced," Kenney said. "This approval properly aligns management of DOE operations in New Mexico to give us a priority."
Adrian Hedden can be reached at 575-628-5516, [email protected] or @AdrianHedden on Twitter.